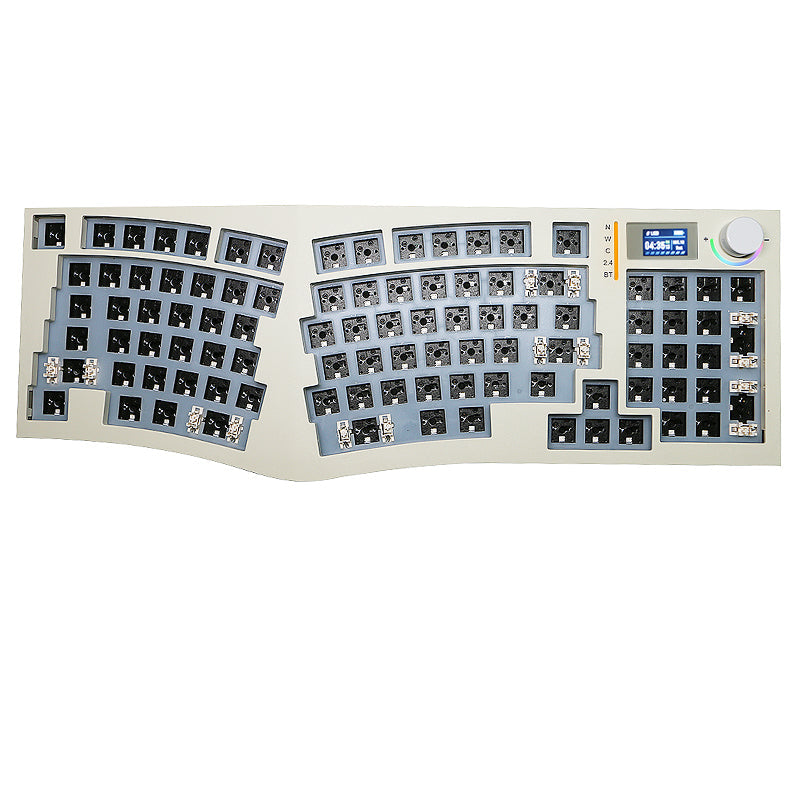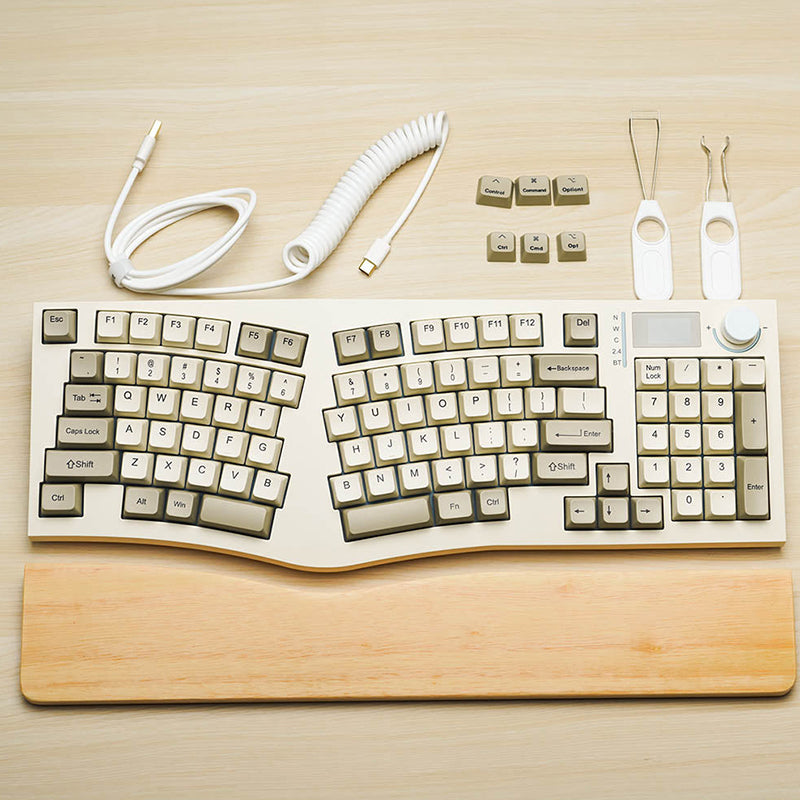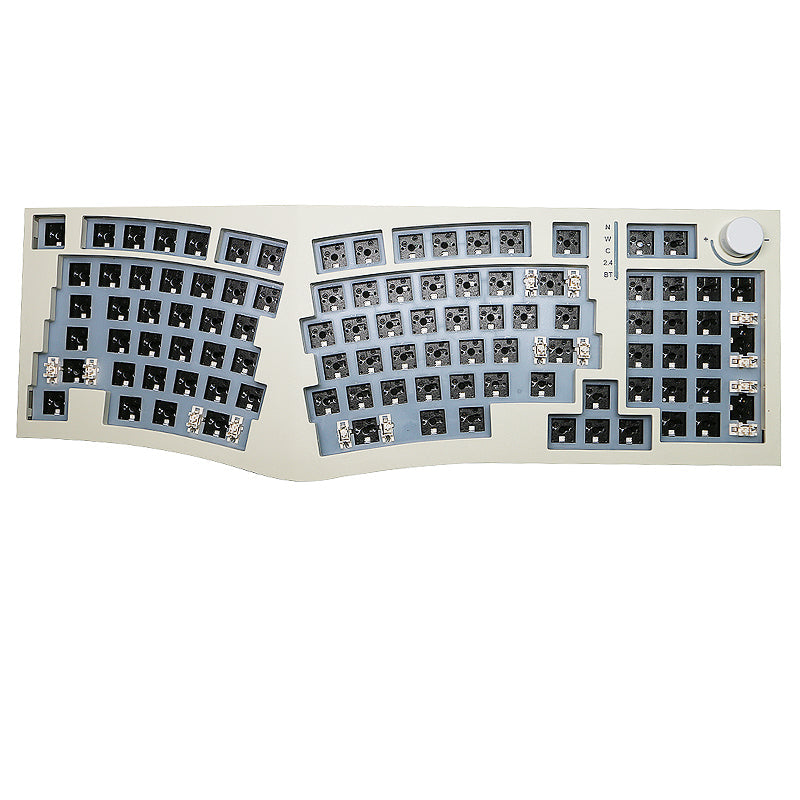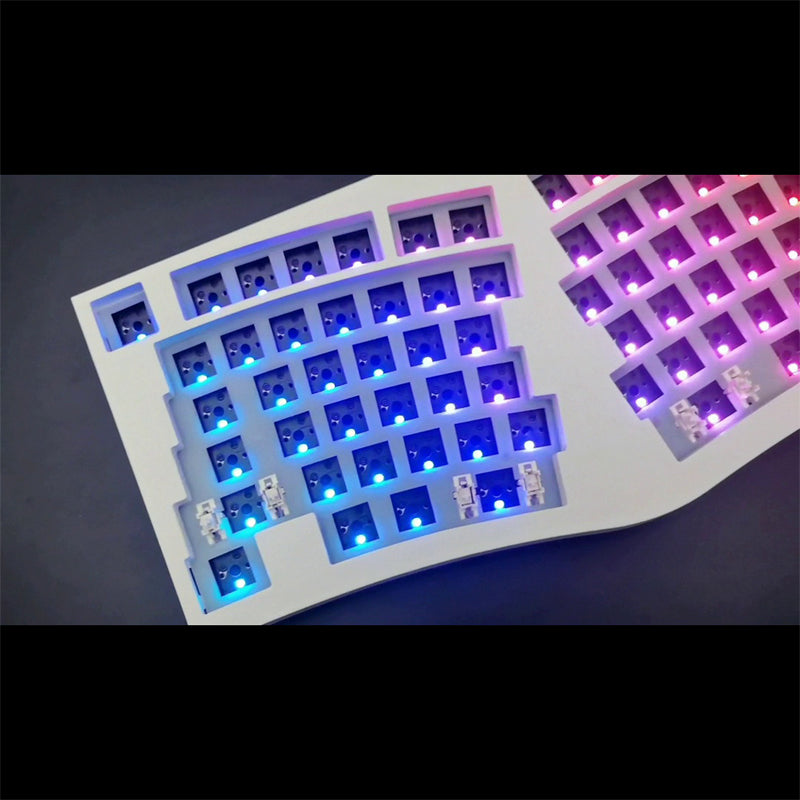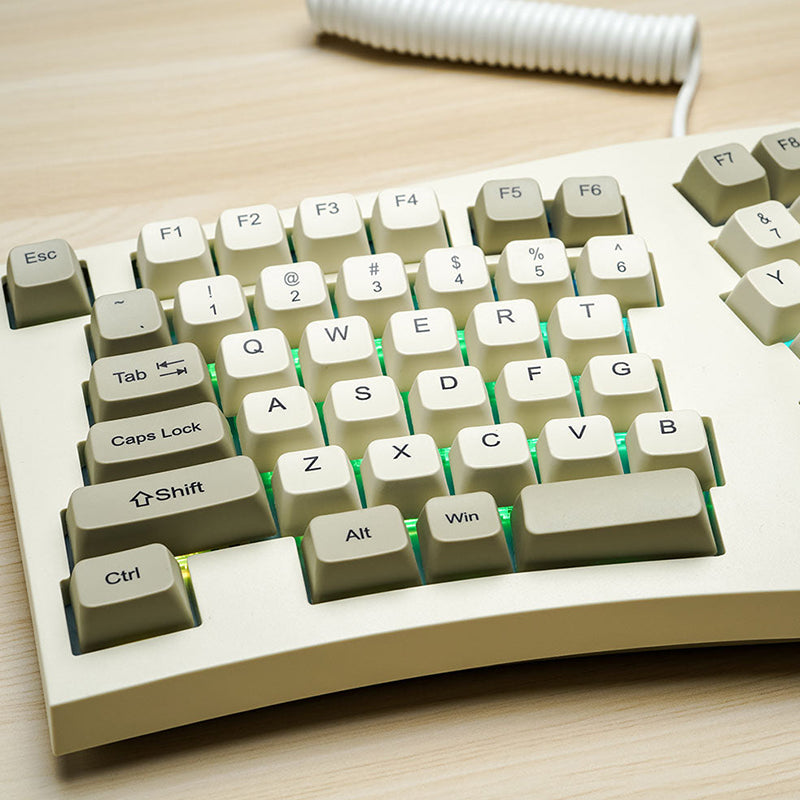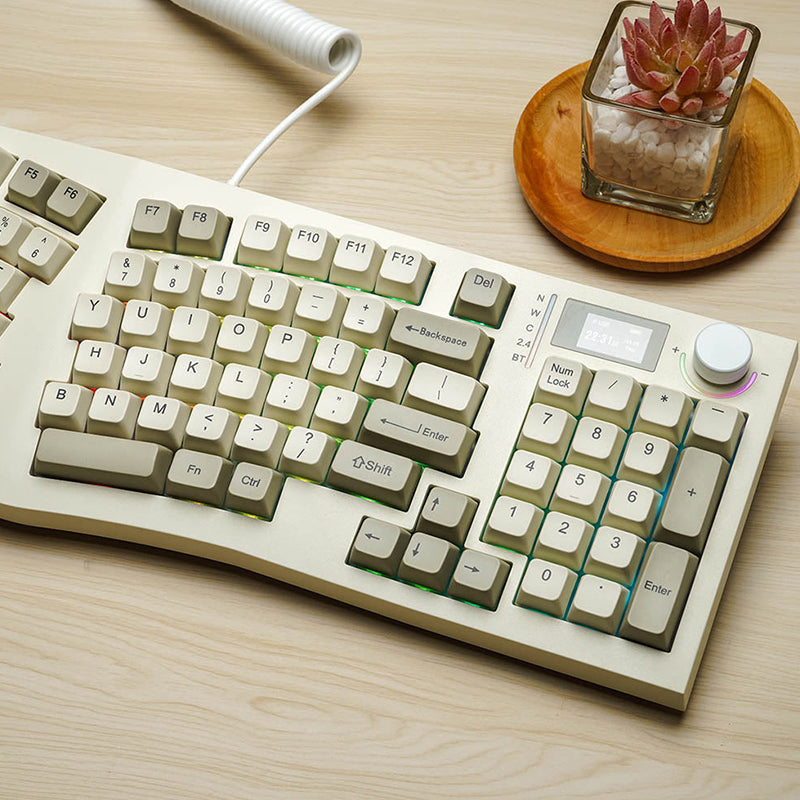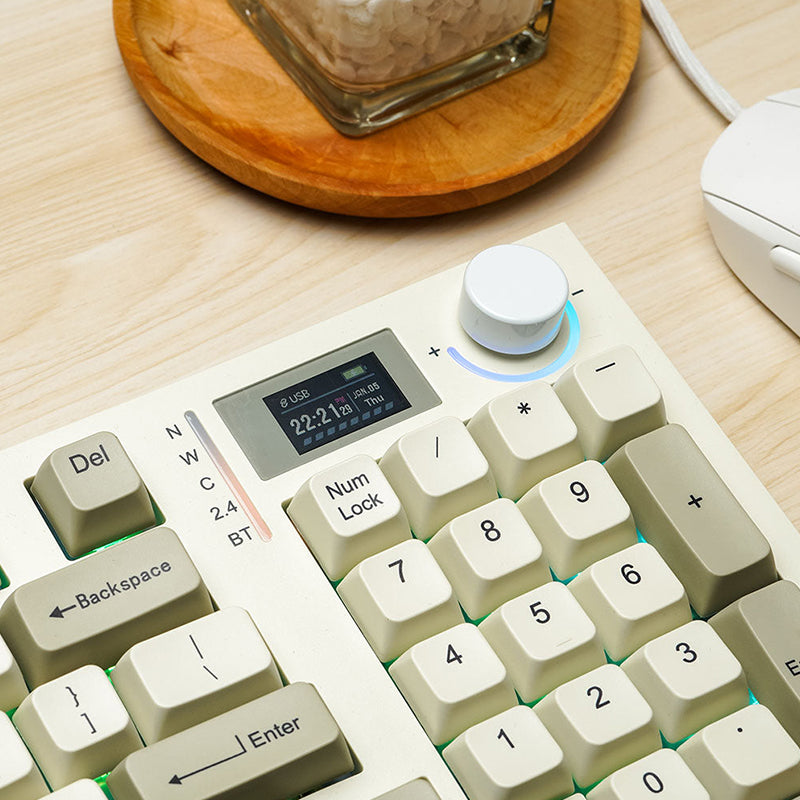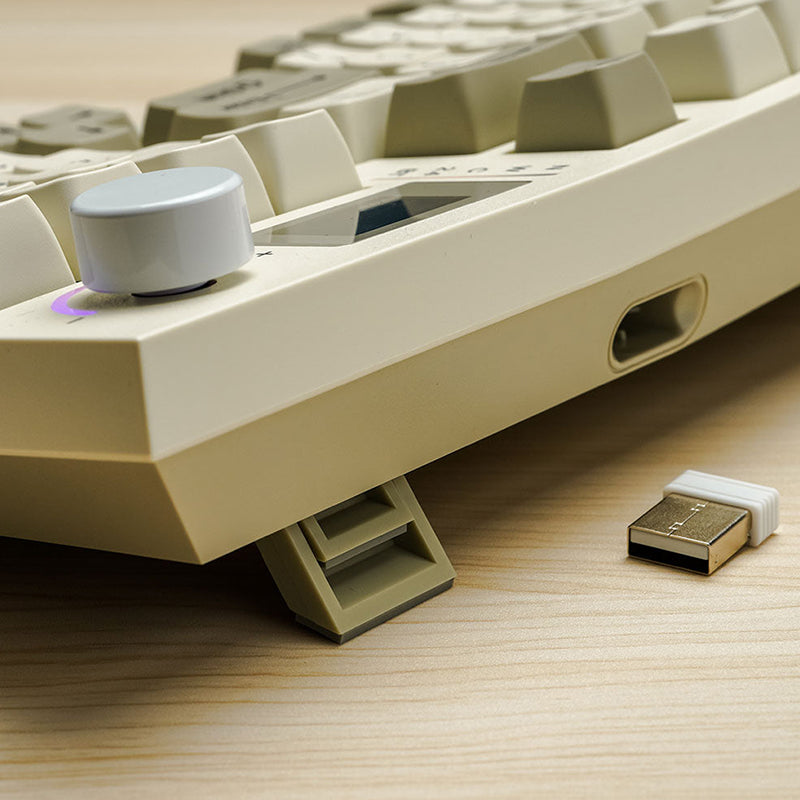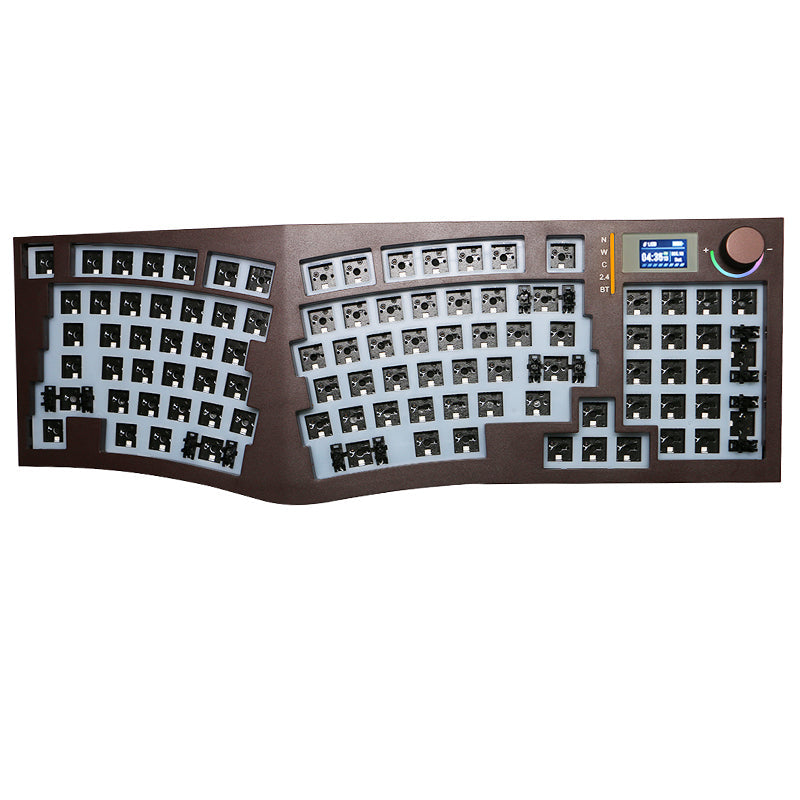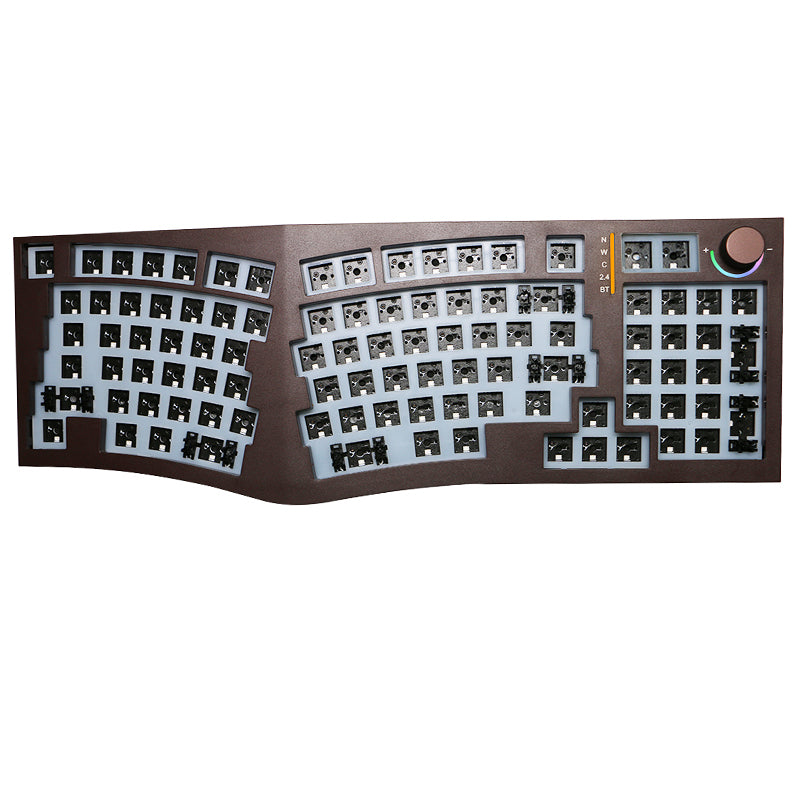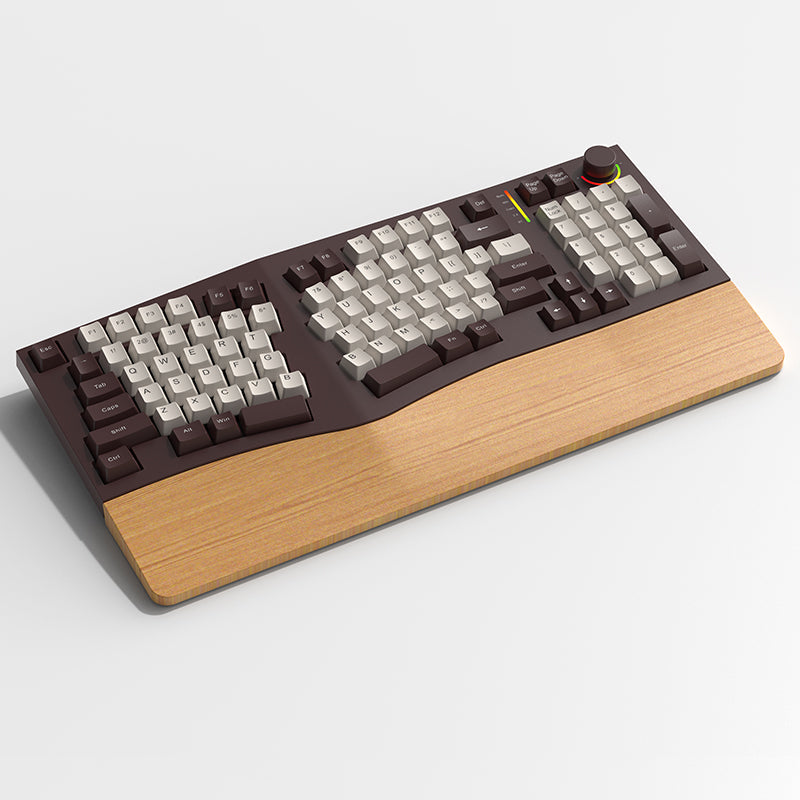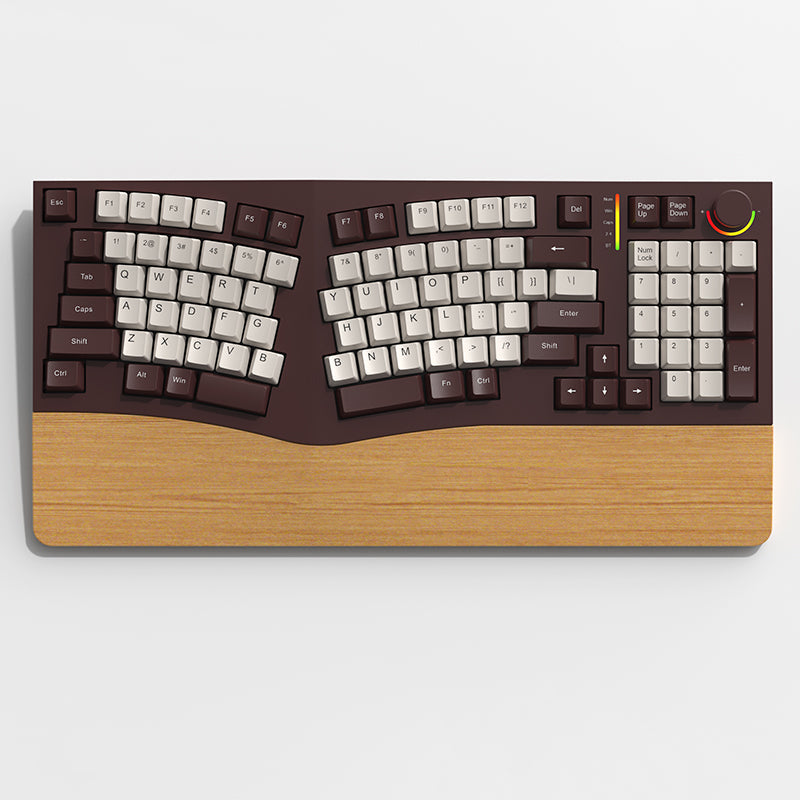 FEKER Alice98 DIY Kit
Version:
Without LED Screen
The Ergo Alice layout with A Numpad
As the traditional Alice-layout keyboard is so popular among enthusiasts, many people still miss the Numpad. Here we are! With this Alice98 layout, Feker adds a numpad to the Alice-split keyboard. The letters and the bottom row are angled at a certain degree to fit the direction of your hands when staying on the desk naturally. The spacebar is split into two pieces to accommodate this design. It is considered to reach a balance in the aspect of ergonomics. Apart from the typical Alice features, Feker's Alice goes further with a media control knob. Like other Alice keyboards, you can still lay your hands on the keyboard freely and increase comfortable typing experiences simultaneously.
Gasket Mount, PC Plate & Sound Absorption Foams
To reach a top typing experience, Feker Alice98 is assembled with a gasket mount, which is constructed with the PC plate laying on the top and the bottom case perfectly without any screws in the middle, presenting a soft and even typing feeling at each corner of the keyboard. Feker has also made an effort to enhance the sound by placing a set of sound-dampening Poron foams: a bottom case Poron foam, a socket Poron foam, a Poron switch sheet, and a Poron PCB foam. These layers can greatly buff keystrokes. All is to provide a stunning typing sound and a premium typing feeling.
South-facing LED RGB Backlight & Kailh Winter Switch
Feker Alice features south-facing LED RGB backlights with 21 light effects. This is also perfect with the Kailh Winter Switch which is shine-through with amazing RGB lights. What's more, the switches are pre-lubed to increase the smooth sense. With the triggering force of 38gf to be pressed, the tactile switches are perfect on the keyboard to be easily pressed and shine through.
Triple Modes: Type-C Wired, Bluetooth 5.0 & 2.4GHz Available
The Feker Alice98 supports connection via Bluetooth or 2.4GHz for wireless connectivity, or with the included Type-C USB cable. With Bluetooth 5.0, it easily connects seamlessly with your devices within 10 meters. Equipped with an 8000 mAh battery, the keyboard is also easily switched among the three modes for efficient multitasking and speedy performance.

NKRO & Detachable Type-C Cable
For this model, we go with lubed plate-mounted stabilizers for they are easier to be taken off, if some extra modding is needed. In the meantime, the keyboard also supports NKRO. That means you can type in multiple keys without conflicts. The keyboard comes with a 1.8m hand-braided type-C cable with golden-plated connectors. Now you can easily build up your own mechanical keyboard with this keyboard!

Download the FEKER Alice 98 Driver - Win
General

Brand: FEKER


Type: DIY Keyboard Kit


Model: Alice98

LED-Screen Version (96 Keys + 1 Knob)

Normal Version (98 Keys + 1 Knob)

Specification

Normal Version: 98Keys+1Knob


Hot-Swappable: Yes


Structure: Gasket Mount


LED: South-facing

Backlist: SMD RGB Backlit, 21 Effects

Case Material: ABS Plastic


Connectivity: Type-C Wired, Bluetooth 5.0&2.4GHz


Battery Capacity: 8000mAh

Weight & Size

Product Weight: 1.6kg


Package Weight: 2.0kg


Product Size(L x W x H): 46.5*13.5*3.3cm

Package Contents

1 x FEKER Alice98 Mechanical Keyboard Kit


1 x User Manual