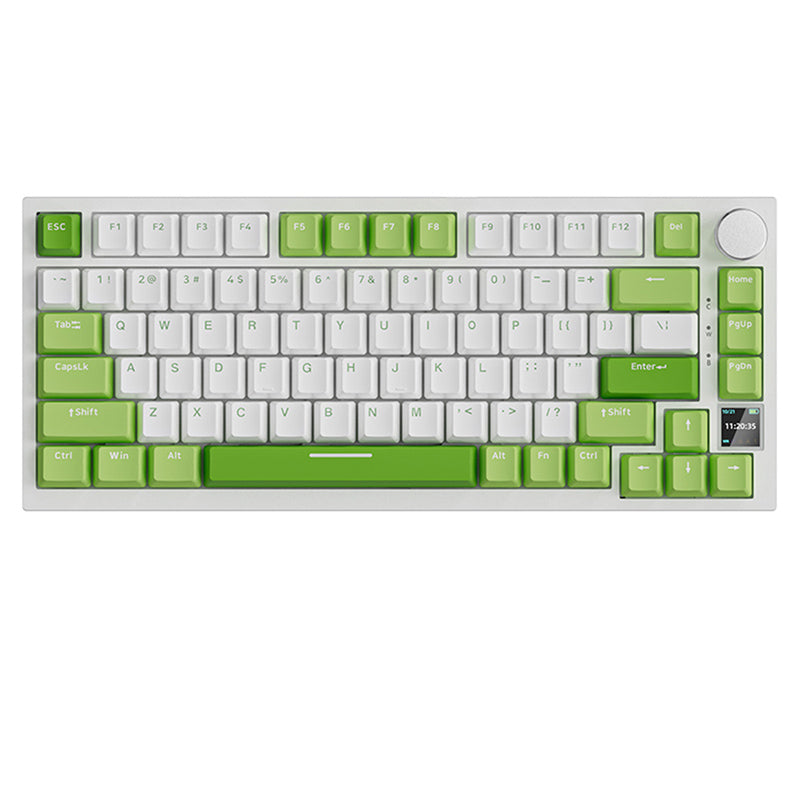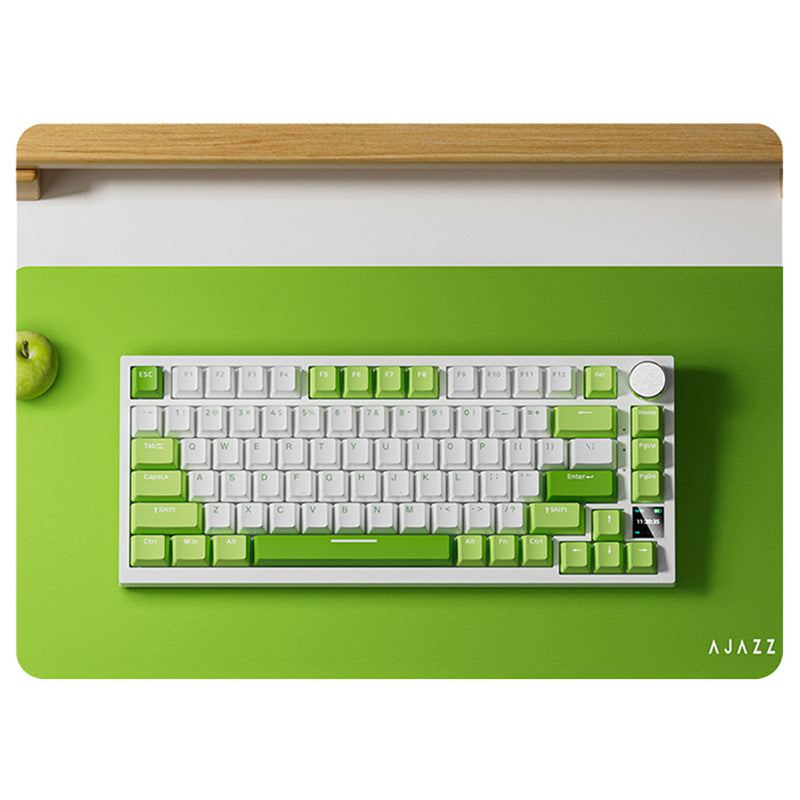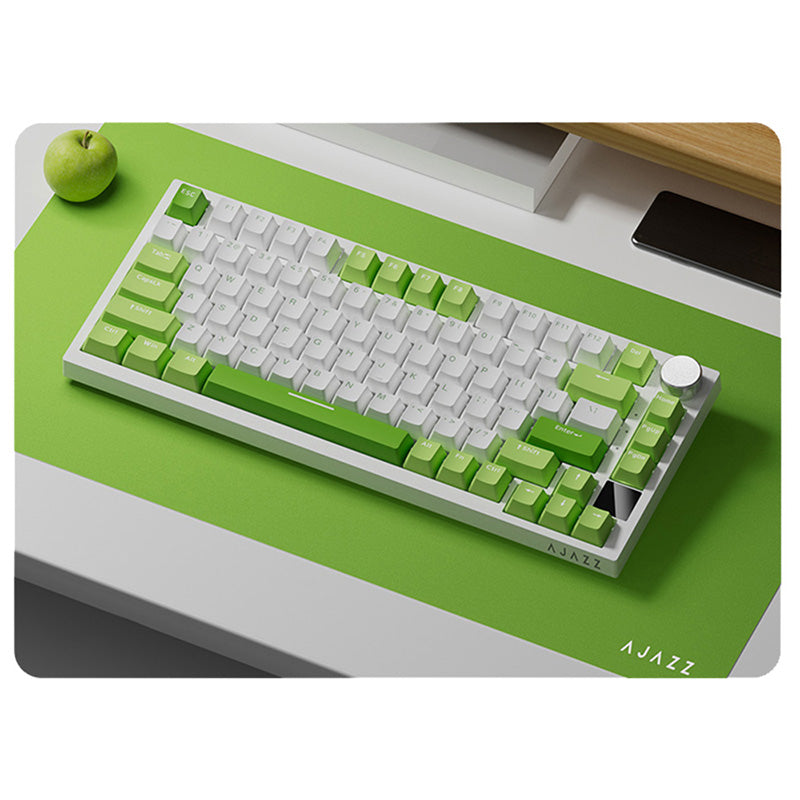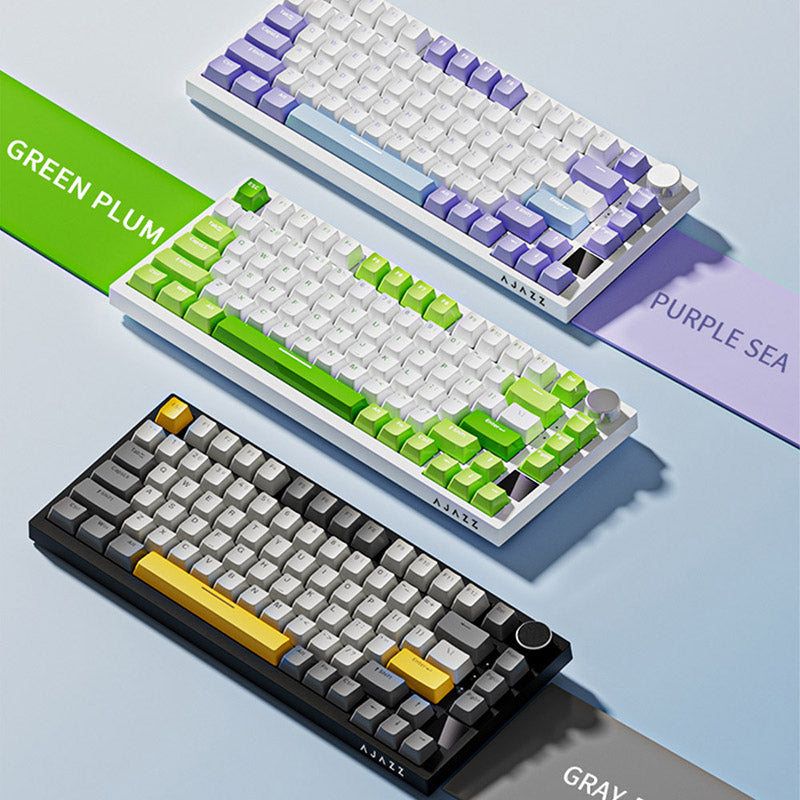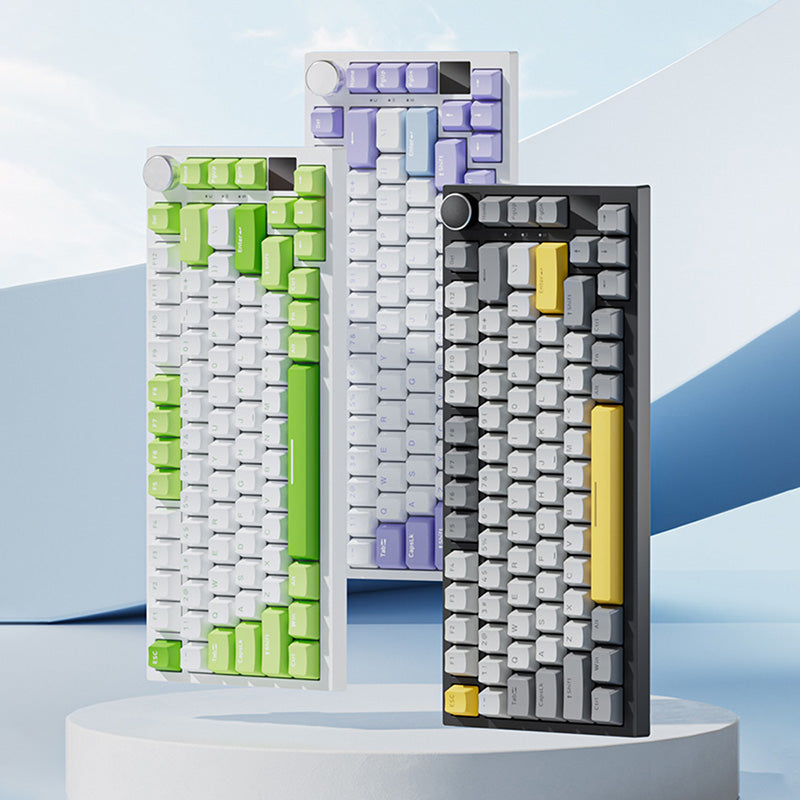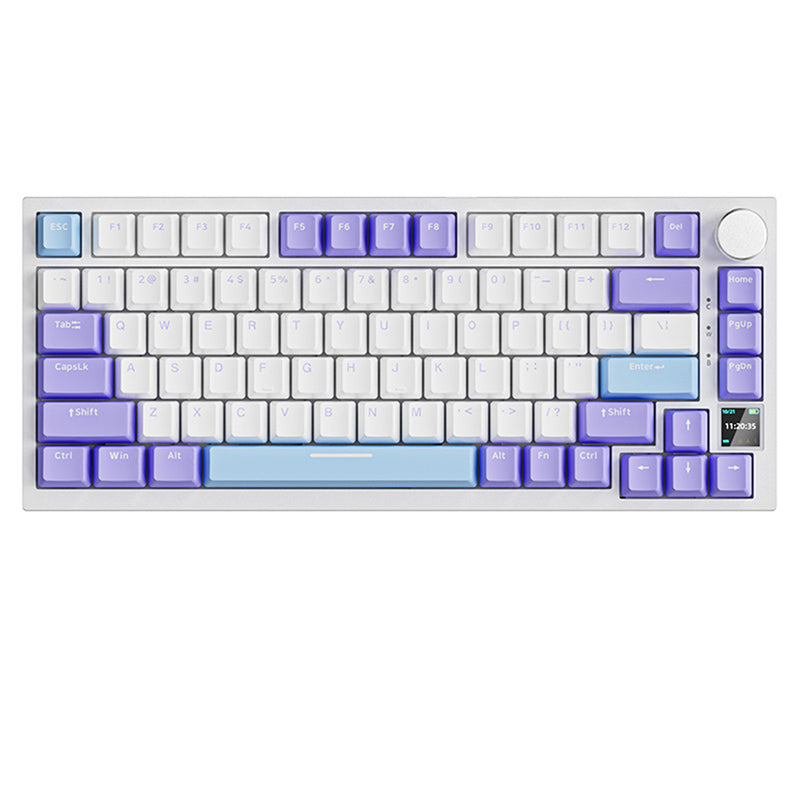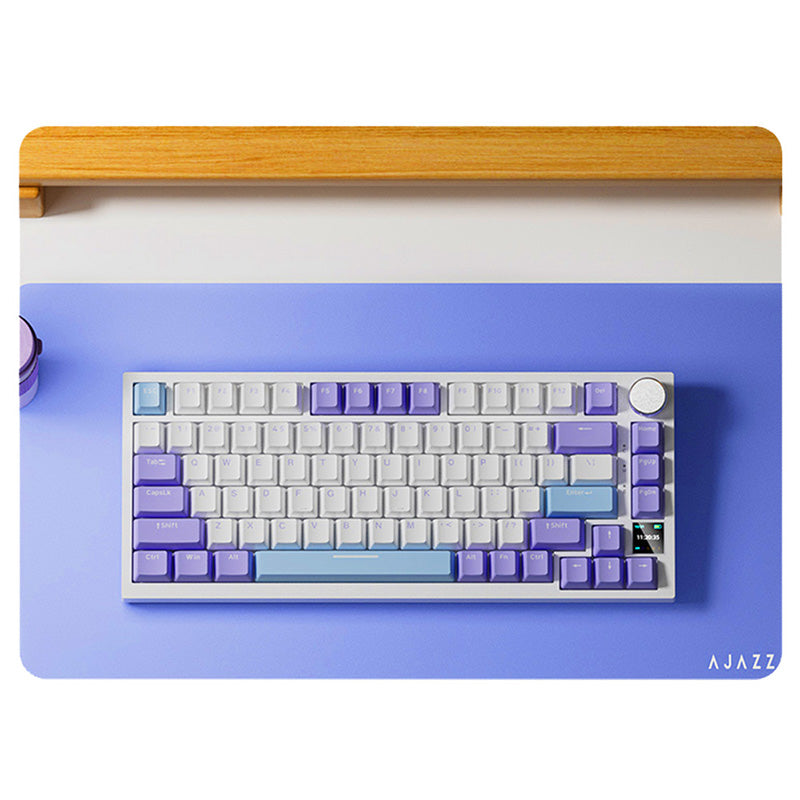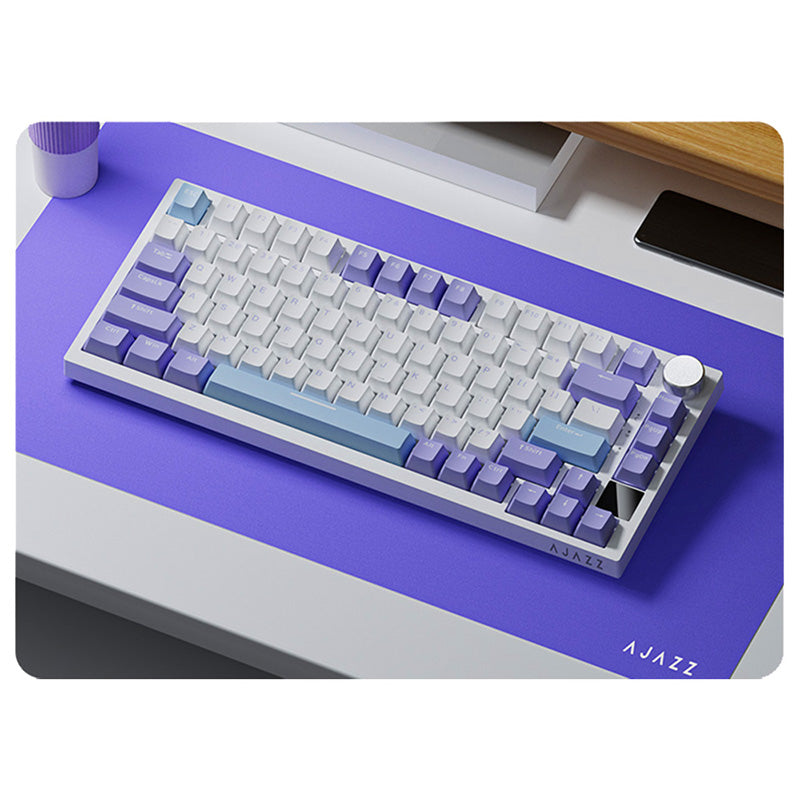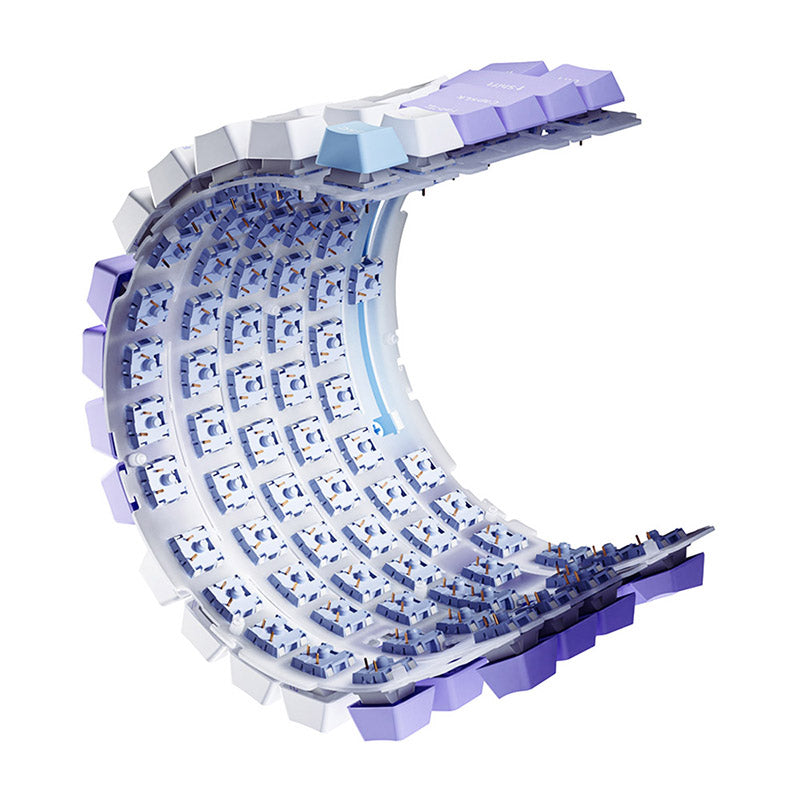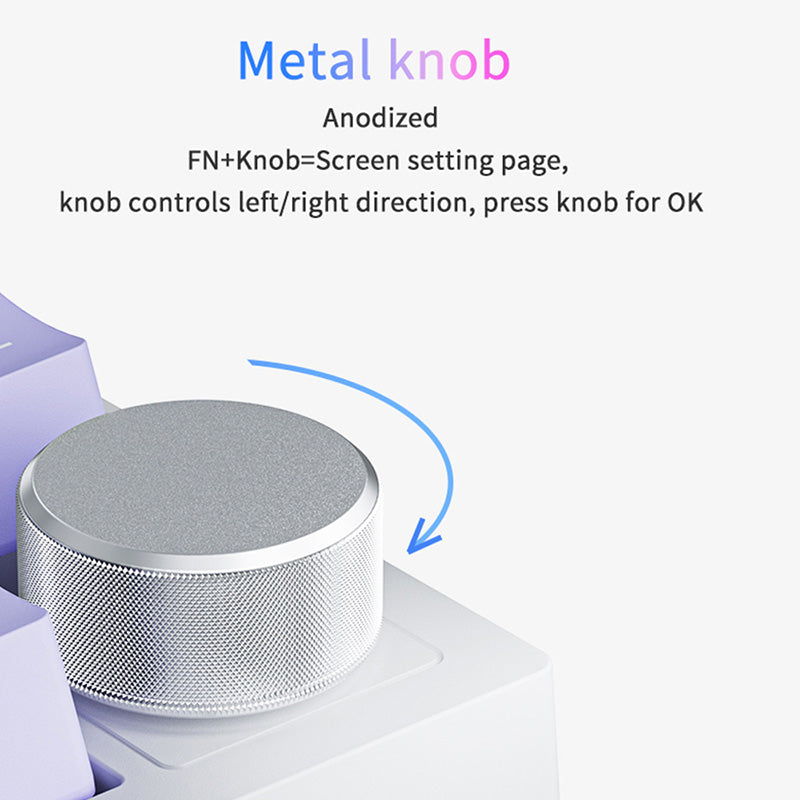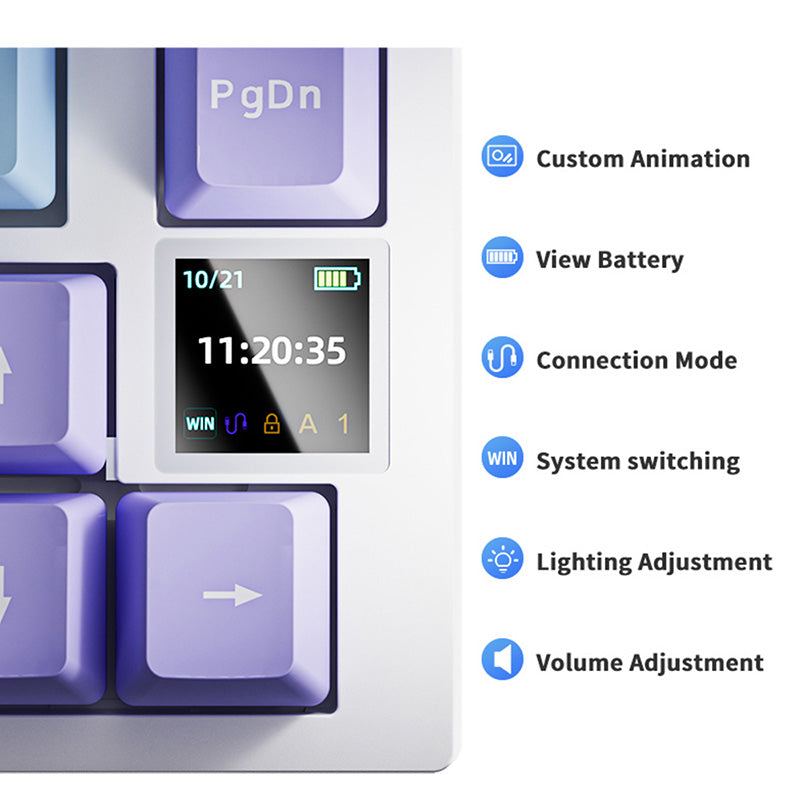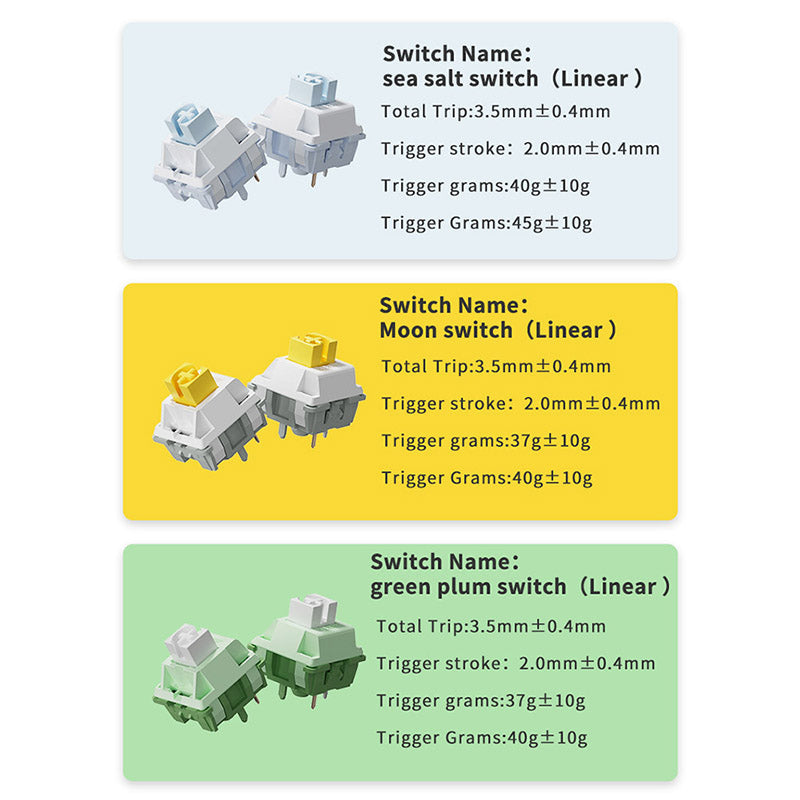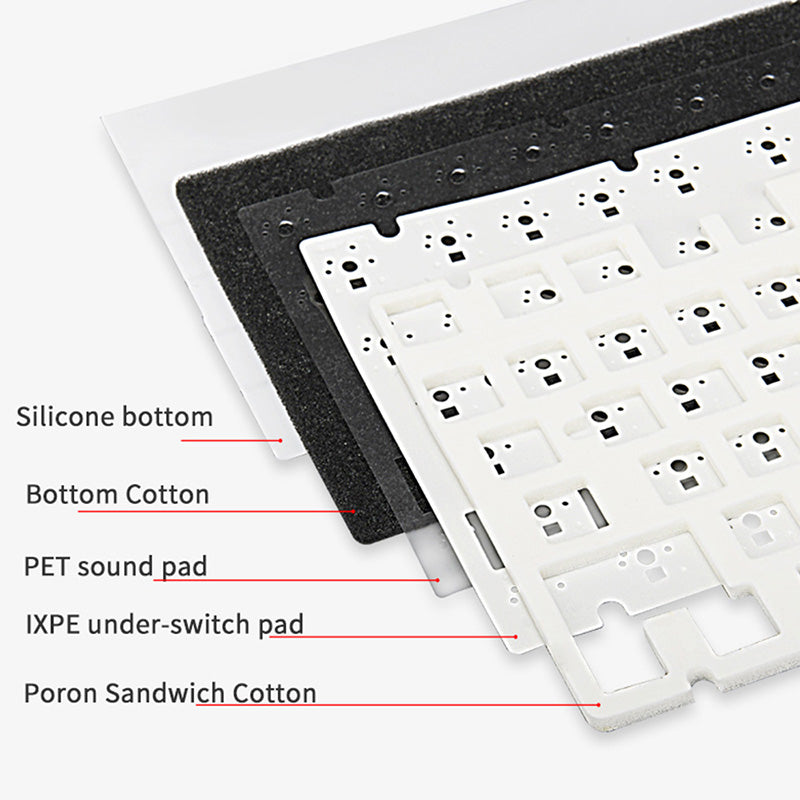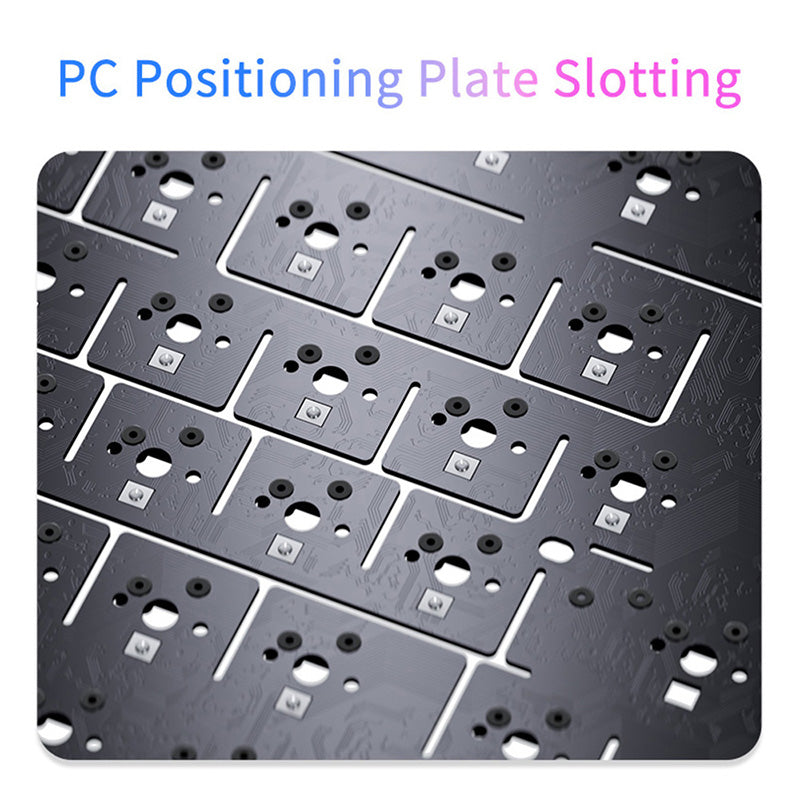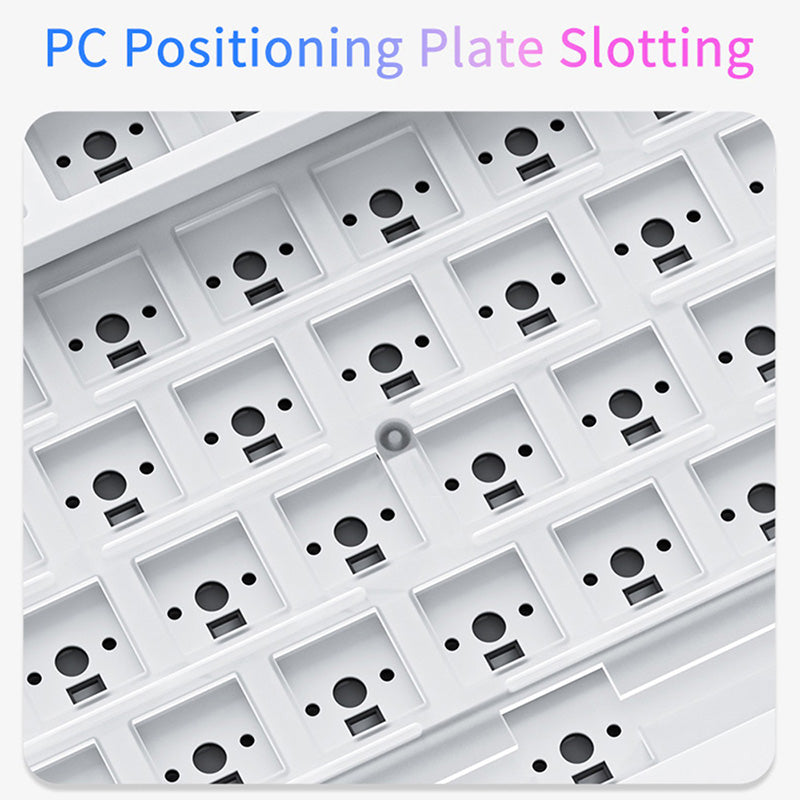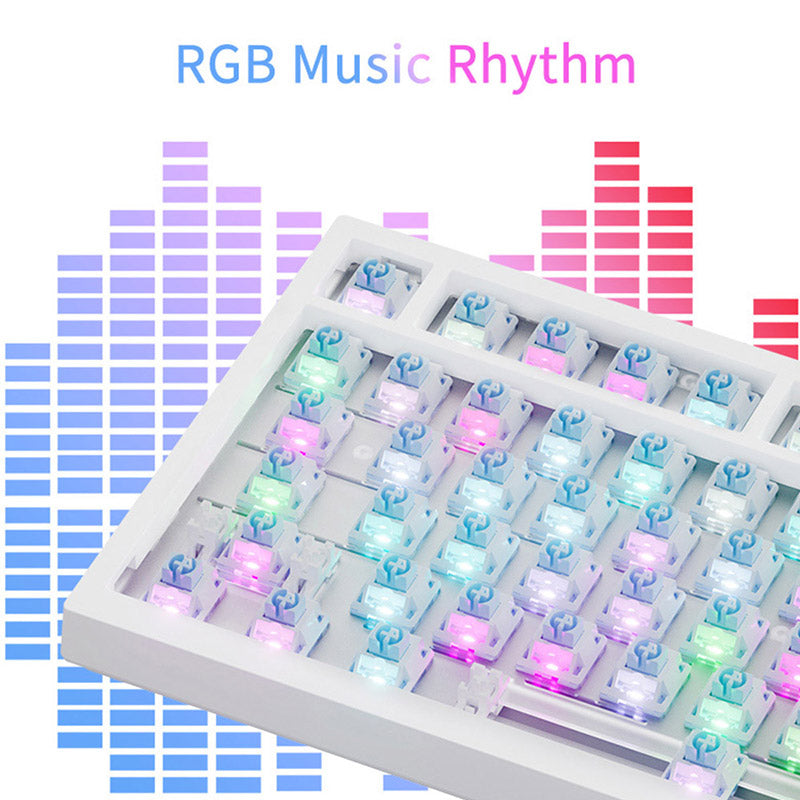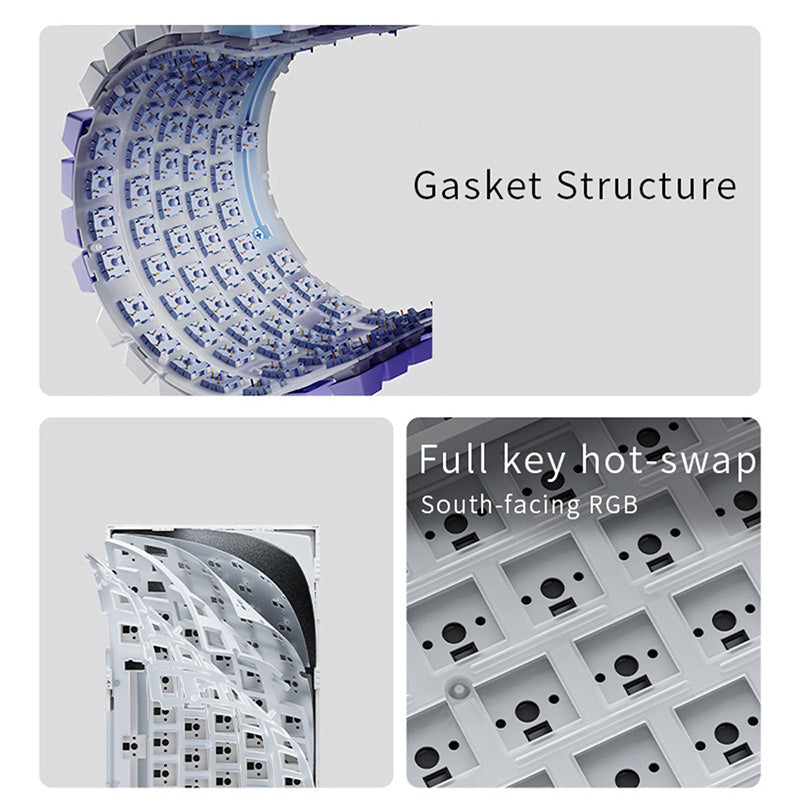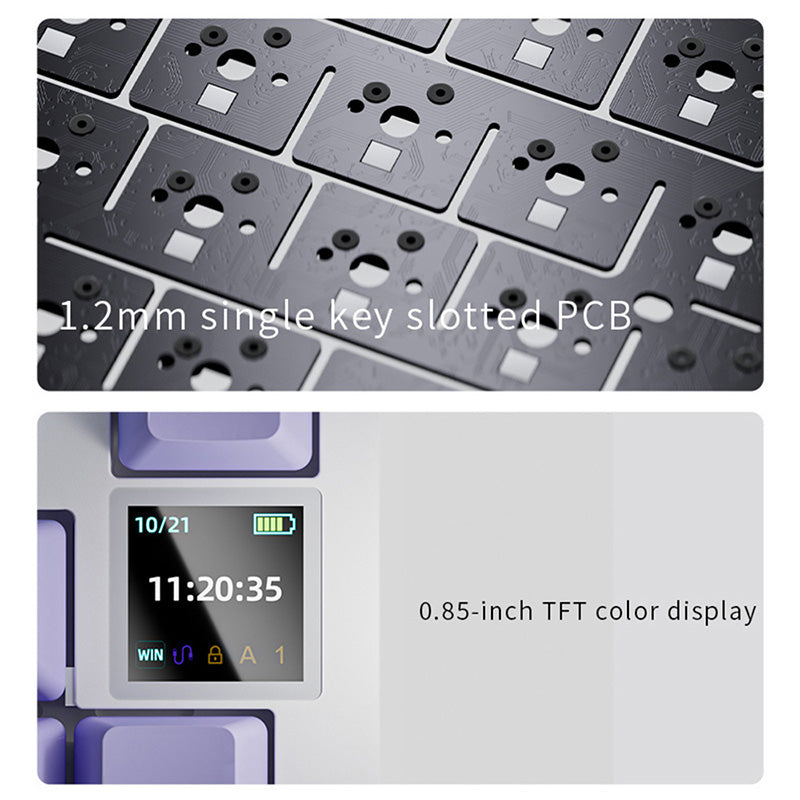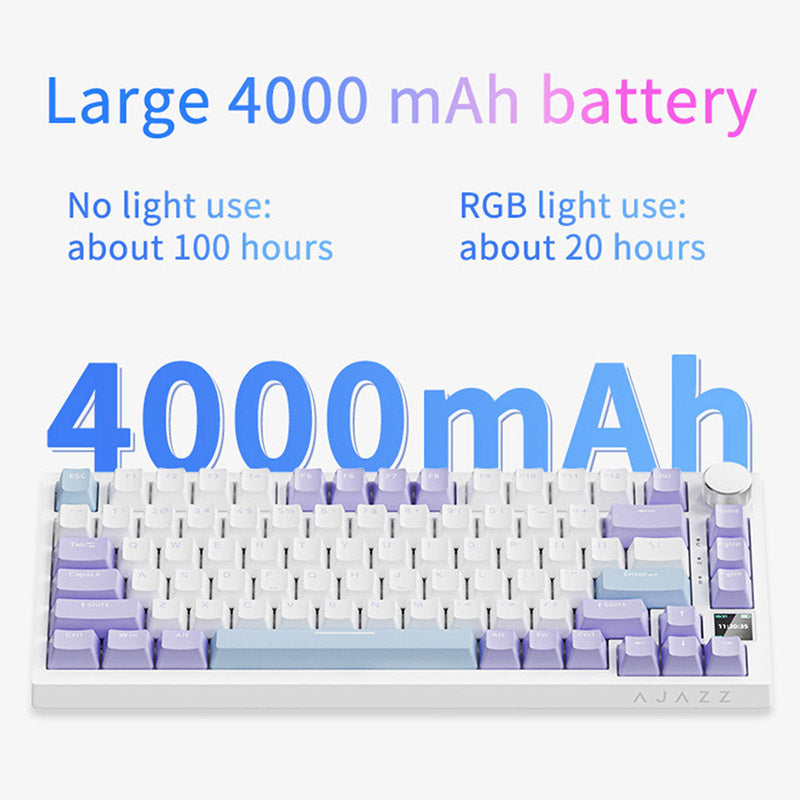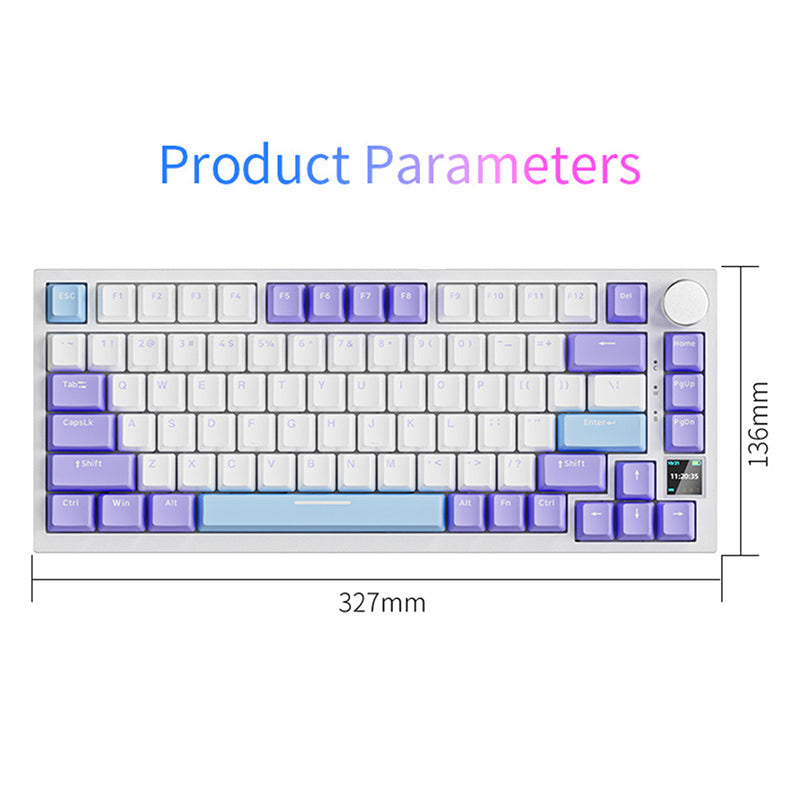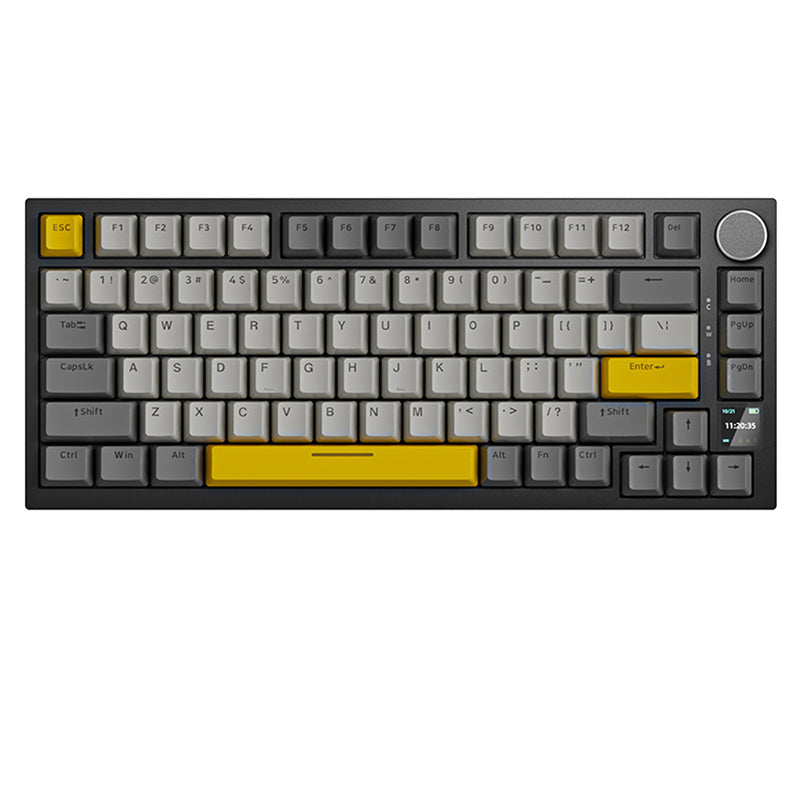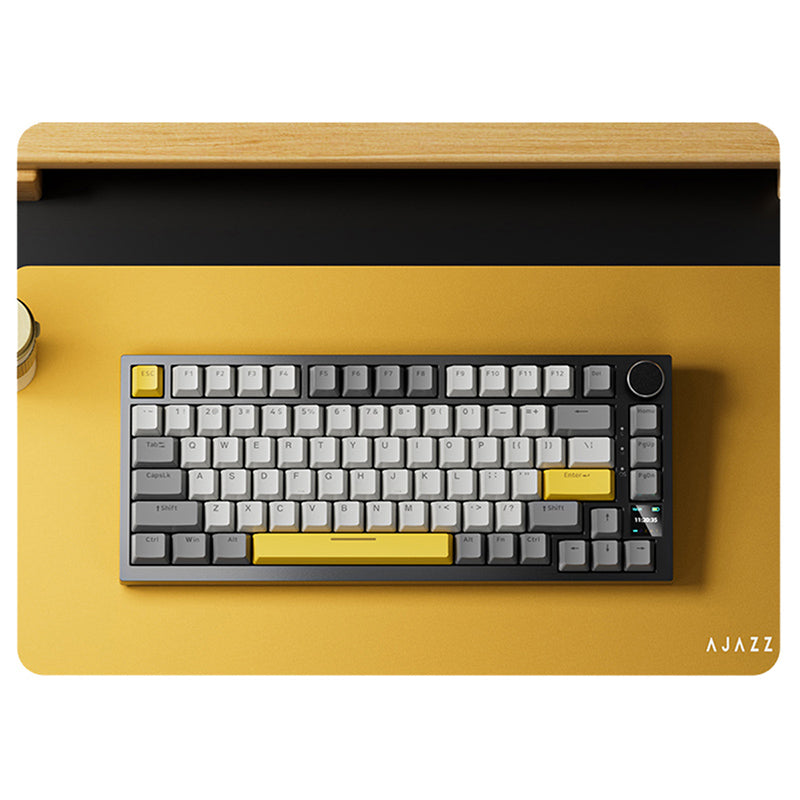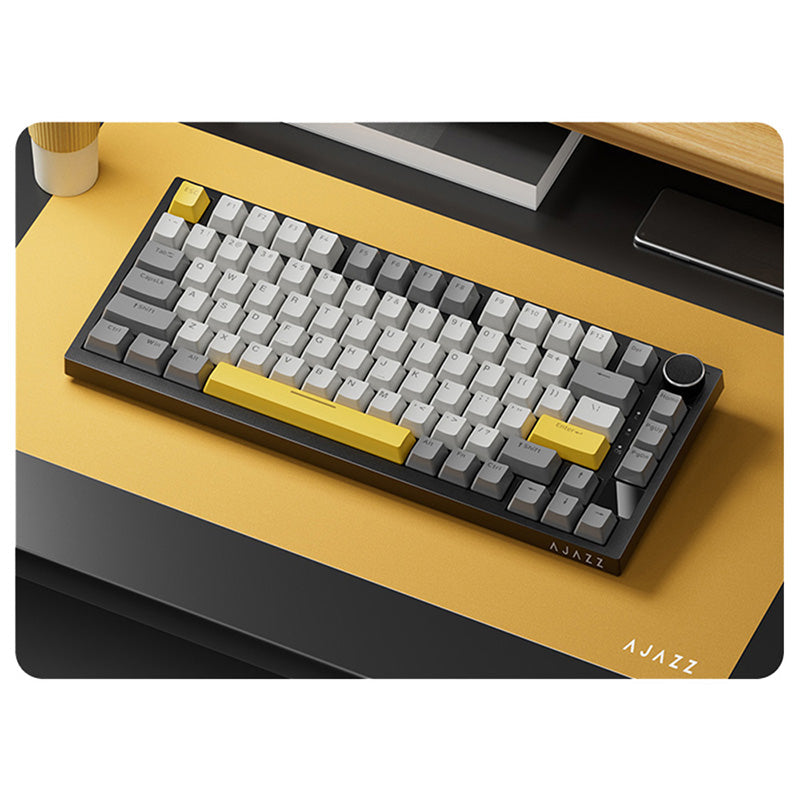 Ajazz AK820 Pro Mechanical Keyboard
Version:
AK820 (Wried + Without Screen)
Ajazz Switches:
Green Plum Linear
AK820 Pro with 0.85 Inch TFT Color Screen
The AK820 Pro features a 0.85" TFT Color Screen with great picture clarity and excellent brightness. At-a-glance viewing of the time, date, battery, connection status, and other keyboard details is made possible and you can even customize GIF animations to your liking.


Internal Structure - Five Layers Of Filling
The silicone base cushion and IXPE switch pad combine to fill any gaps between the switches, lessening any potential noise produced from typing, and delivering a more solid and refined sound.


PCB Single Key Slotting
The Rainbow and Pro versions of the Ajazz AK820 Pro Mechanical Keyboard boast a single-key slotting design and a 1.2 mm thickness to ensure an optimal feel and elasticity.

Metal Knob
The knob is designed with anodized technology, allowing you to quickly adjust the volume whether at work or in games.
FN+knob = screen setting page, the knob controls the left and right directions, press the knob to confirm.

RGB Backlight Music Rhythm
The hot-swappable PCB design of the lower lamp position, paired with double-shot PBT keycaps, brings radiance to your fingertips.
General

Brand: Ajazz


Type: Mechanical Keyboard


Model: AK820

Layout: 82Keys+1 knob

Structure: Gasket

Hot-Swappable: Yes

Backlight: RGB(South-facing)

Keycap: Double-shot PBT

Support Systems: Windows/MacOS/Linux

Product Weight: 0.81kg


Package Weight: 1.2kg


Product Size(L x W x H): 327*136*40mm

Differences between the two versions

AK820 Pro Keyboard

Display Screen: 0.85Inch TFT

Connection: Wired Type-C/Wireless 2.4G/Bluetooth

AK820 Keyboard

Display Screen: No

Connection: Wired Type-C

Switch Type

Ajazz Sea Salt Switches
Type: Linear
Operating Force: 40±10gf
Bottom Force: 45±10gf
Pre-Travel: 2.0±0.4mm
Total Travel: 3.5±0.4mm

Ajazz Green Plum Switches
Type: Linear
Operating Force: 37±10gf
Bottom Force: 40±10gf
Pre-Travel: 2.0±0.4mm
Total Travel: 3.5±0.4mm

Ajazz Moon Switches
Type: Linear
Operating Force: 37±10gf
Bottom Force: 40±10gf
Pre-Travel: 2.0±0.4mm
Total Travel: 3.5±0.4mm

Package Contents

1 x AK820 Keyboard


1 x Type-C Cable


1 x Dust-proof Cover


1 x Keycap & Switch Puller


1 x User Manual