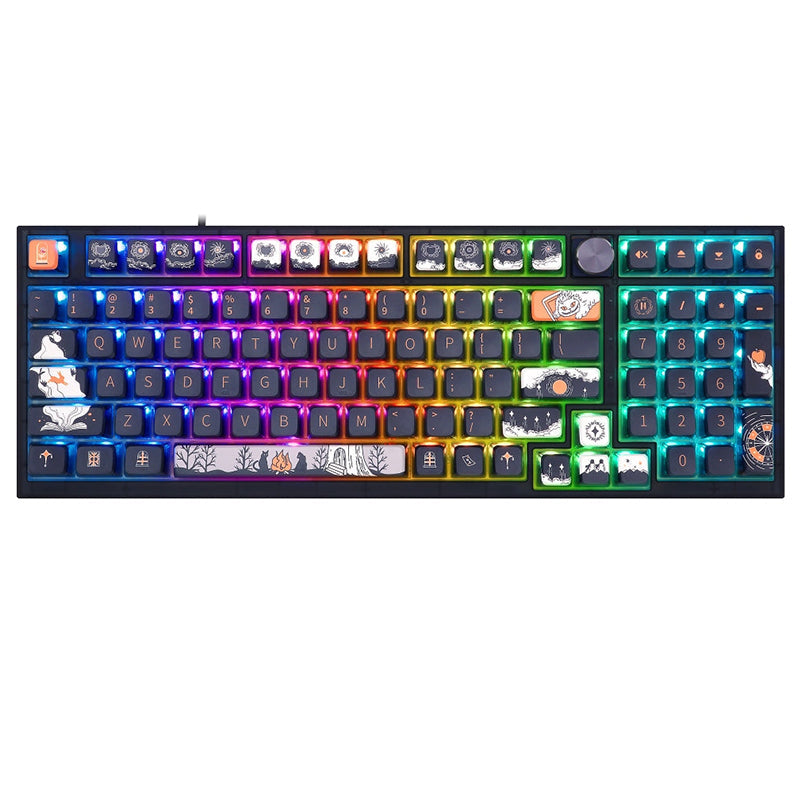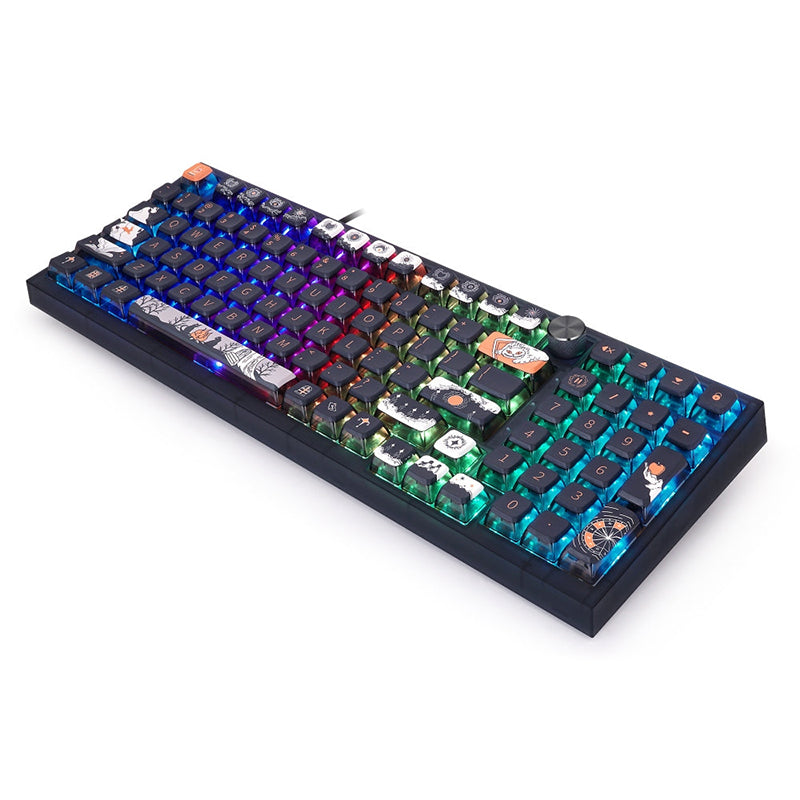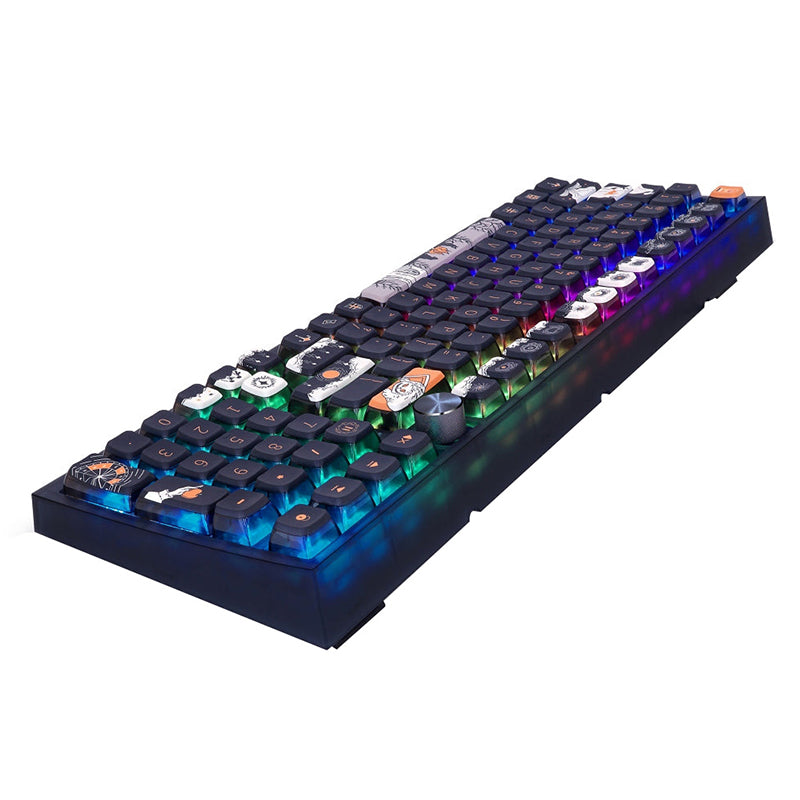 SKYLOONG GK980 1800 Dark Fairy Tale Gasket Mechanical Keyboard
Glacier Optical Switches:
Red Linear
Shallow Gasket Structure Bottom Foam
The GK980 keyboard is adapted with the patented Shallow Gasket design, which comes with an all-in-one silicone pad, which is meticulously made of lightweight liquid silicone with high precision to match each switch. Inserted in between the PCB board and the plate, the Shallow Gasket silicone pad not only eliminates the traditional design's drawback of lacking support in the main typing area but also cushions the shock under every keystroke. The keyboard also contains foam at the bottom layer to reduce hollow sounds, as well as enhance the feeling of typing strokes.

1800 Exploded Hotswap Keyboard with a Rotary Knob
GK980 comes in 1800 exploded size, which skips the home clusters in a full keyboard and retains the numpad, leaving some space with arrow keys. By adding a rotary knob, the keyboard can change the volume by simply rotating left and right.

Note: Hot-swappable for Gateron / Skyloong 1-pin Optical switches only. Not compatible with 3-pin 5-pin mechanical switches.

Pre-lubed Gateron Optical Switches
The Gateron Optical switches are 1-pin switches. Unlike the traditional mechanical switches, the optical switches are triggered by laser through the contact point. In this way, they can last longer than general mechanical switches. Being factory lubed, the Gateron Optical switches can present better sounds and prolong the life span. With the keyboard GK980, there are linear blacks, yellows, and reds as well as tactile browns and clicky blues for choosing from.

High-quality PBT Pudding Keycaps in GK7 Profile
The GK980 keyboard adopts the PBT material for the surface of keycaps, which is proven to be sturdy and oil-proof even after a long time of use. With the transparent sides, the keyboard glows brightly in dark atmospheres. Skyloong made the keycaps in the customized GK7 profile, which can keep the typing angle ergonomic and also fit the north-facing LEDs without any interference.

16.8 Million RGB Backlight
Set up the colors and rhythm in the way you like it and match up the lighting effects with your mode every day! There are different backlight effects available for you to choose from, and you can even customize your own gaming light modes in the software. Make your keyboard unique by matching its color scheme with your room!
Download the SKYLOONG Driver v6.0.0.62 - Win
Download the SKYLOONG Driver v1.0.0.18 - Mac
General

Brand: SKYLOONG


Type: Mechanical Keyboard


Model: GK980

Specification

Layout: 1800 / 99 Keys + 1 Knob

Hot-swappable: 1-pin Optical Switches Only

Switch Type: Gateron optical switches

Material of Keycaps: PBT Pudding

Keycaps Profile: GK7 Profile

Case Material: ABS Plastic

Stabilizer Type: Plate-mounted

Mount Type: Gasket-like Mount

Backlight: RGB

Connectivity: Detachable Type-C Interface

Switch Type

Product Weight: 1.2kg


Package Weight: 1.7kg


Product Size(L x W x H): 394*144*44 mm

Package Contents

1 x Keyboard

1 x Type-C Cable

1 x Keycap-switch Puller

1 x Extra Keycaps

1 x User Manual