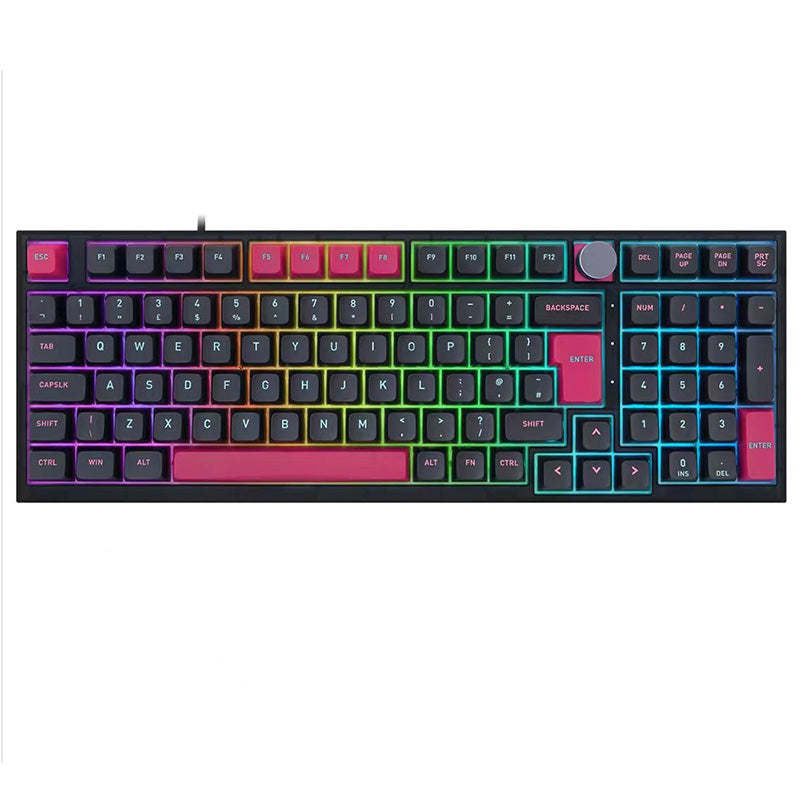 SKYLOONG GK980 1800 Compact ISO Layout Wired Mechanical Keyboard
Switch Type:
Gateron Optical Red Linear
1800 Compact Wired Keyboard with A Rotary Knob
Skyloong GK98 is an 1800 compact keyboard with a Numpad for those who need to deal with digits in daily work. The GK98 is even upgraded from a classic version that includes a knob for media control and can be remapped in the proprietary software. It's a wired-only keyboard so it will not have low-battery issues like other wireless keyboards. Customize your keyboard to suit your own typing habit!

Shallow Gasket Structure & Bottom Foam
The GK98 keyboard is adapted with the patented Shallow Gasket design, which comes with an all-in-one silicone pad, which is meticulously made of lightweight liquid silicone with high precision to match each switch. Inserted in between the PCB board and the plate, the Shallow Gasket silicone pad not only eliminates the traditional design's drawback of lacking support in the main typing area but also cushions the shock under every keystroke. The keyboard also contains foam at the bottom layer to reduce hollow sounds, as well as enhance the feeling of typing strokes.

Hot-swappable for 1-pin Optical Switches
The Skyloong GK98 keyboard is equipped with hot-swappable terminals for 1-pin optical switches. Unlike the traditional mechanical switches, the optical switches are triggered by laser through the contact point. In this way, they can last longer than general mechanical switches. Without the metal pins, the Gateron optical switches can present better sounds and a prolonged life span.

High-quality ABS Keycaps in Unique GK5 Profile
The GK98 keyboard adopts the ABS material for keycaps, which is convenient for molding in the double-shot process. The unique GK5 profile is in a spherical shape, which keeps the typing angle ergonomic and also fits the north-facing LEDs without any interference.

Programmable & Compatible with Win/Mac OS
The GK98 keyboard is designed for compatibility with both Win and Mac OS. With the software, you can create macros and remap the keys and even the knob freely. The built-in flash memory makes sure to save the setting in offline mode. No worries about losing it.
Download the SKYLOONG Driver v6.0.0.62 - Win
Download the SKYLOONG Driver v1.0.0.18 - Mac
General

Brand: SKYLOONG


Type: Mechanical Keyboard


Model: GK980

Specification

Layout: 99 Keys

Layout: ISO Layout


Backlight: RGB

Mounted: Shallow Gasket

Case Material: ABS Plastic

Plate Material: Steel

Switches: Gateron Optical Yellow Linear  / Gateron Optical Red Linear

Connection: Type-C to USB-A

System Support: Windows / macOS

Anti-ghosting: Full Keys 

Switches

Gateron Optical Yellow Linear 

Gateron Optical Red Linear

Package Contents

1 x Keyboard


1 x 2 in-1 Keycaps & Switches Puller

1 x Type-C Cable


1 x User Manual
Very compact and confortable keycaps
Very compact and confortable keycaps
Very compact and confortable keycaps
Very compact and confortable keycaps