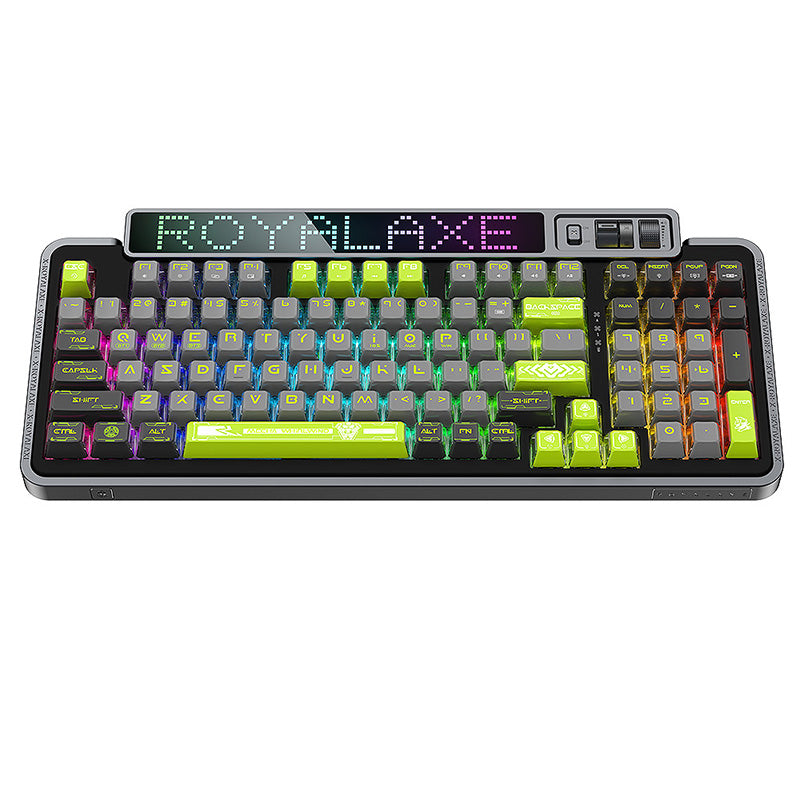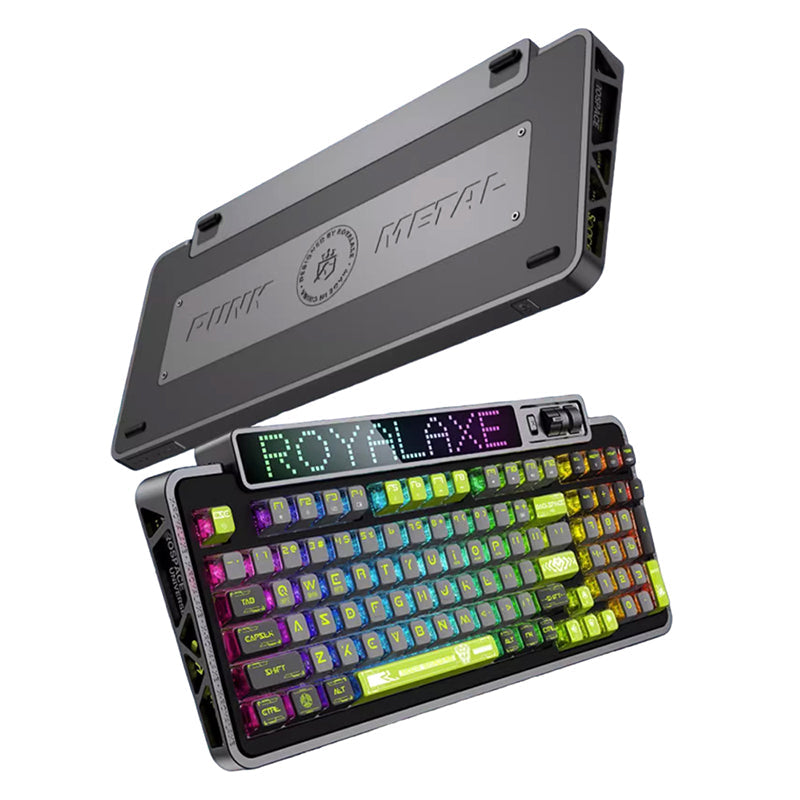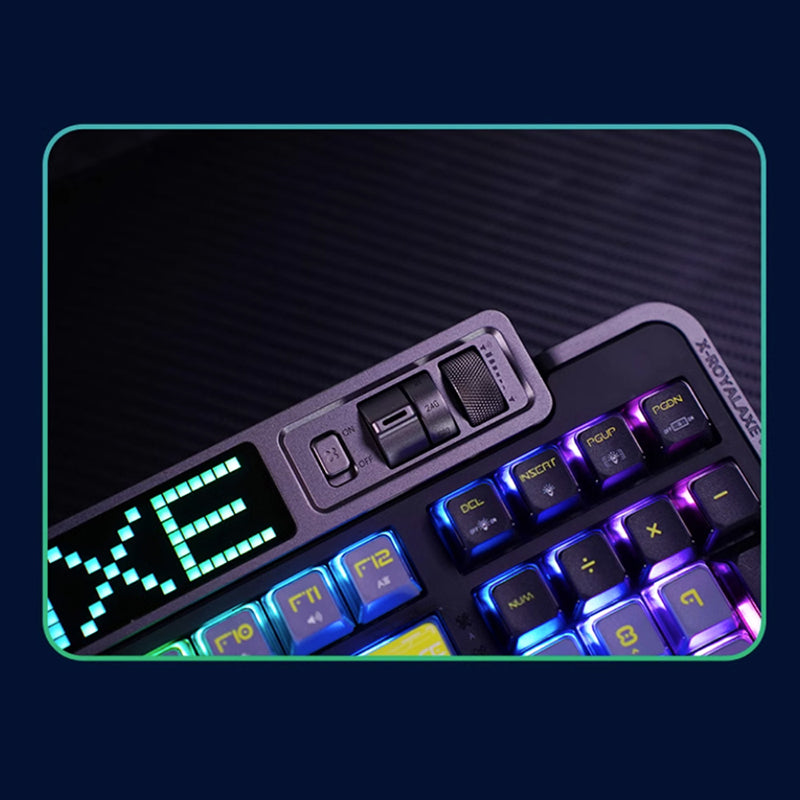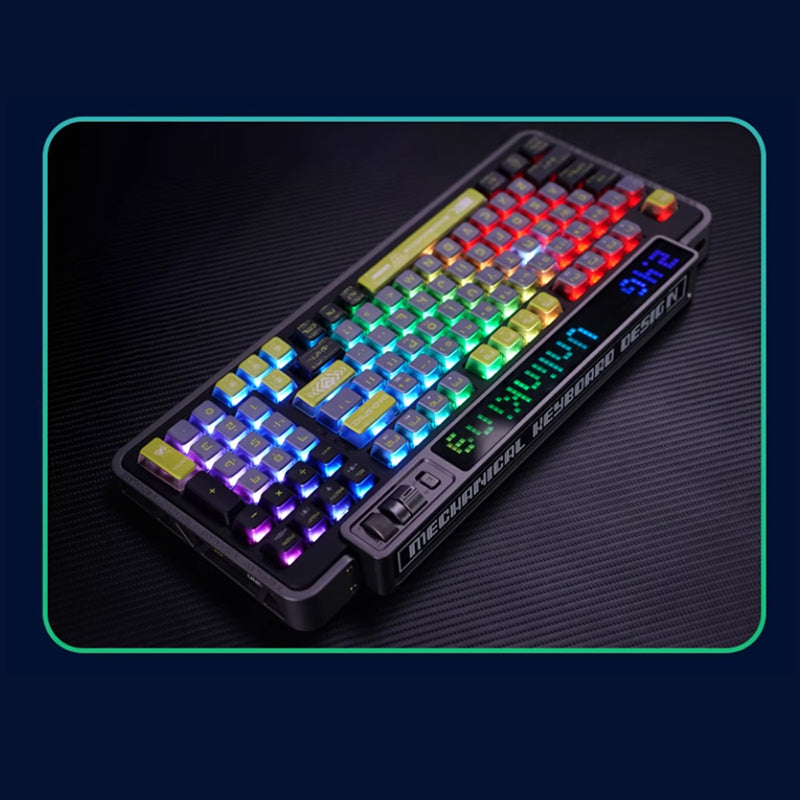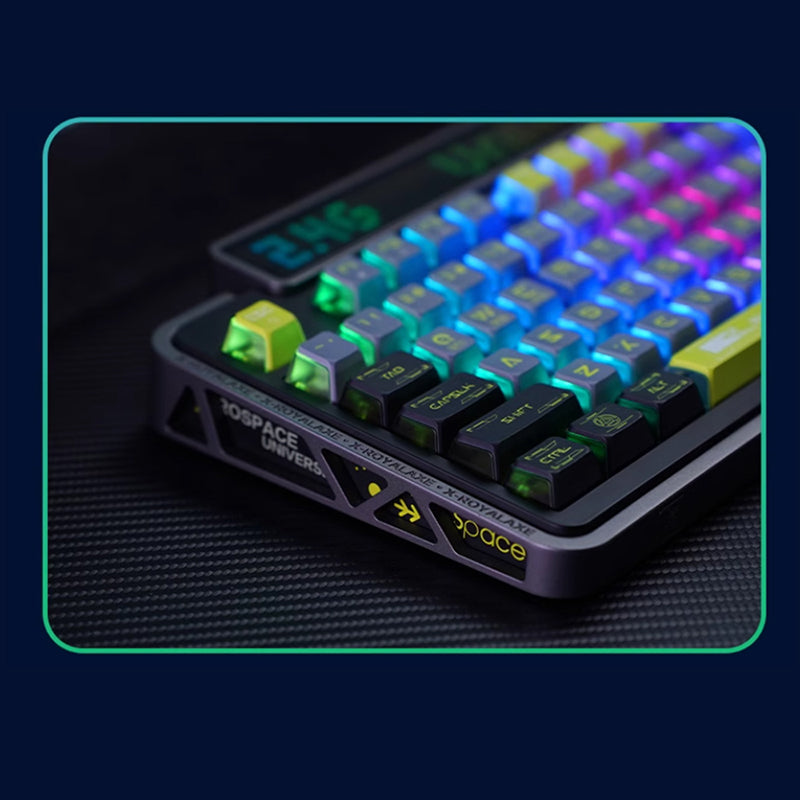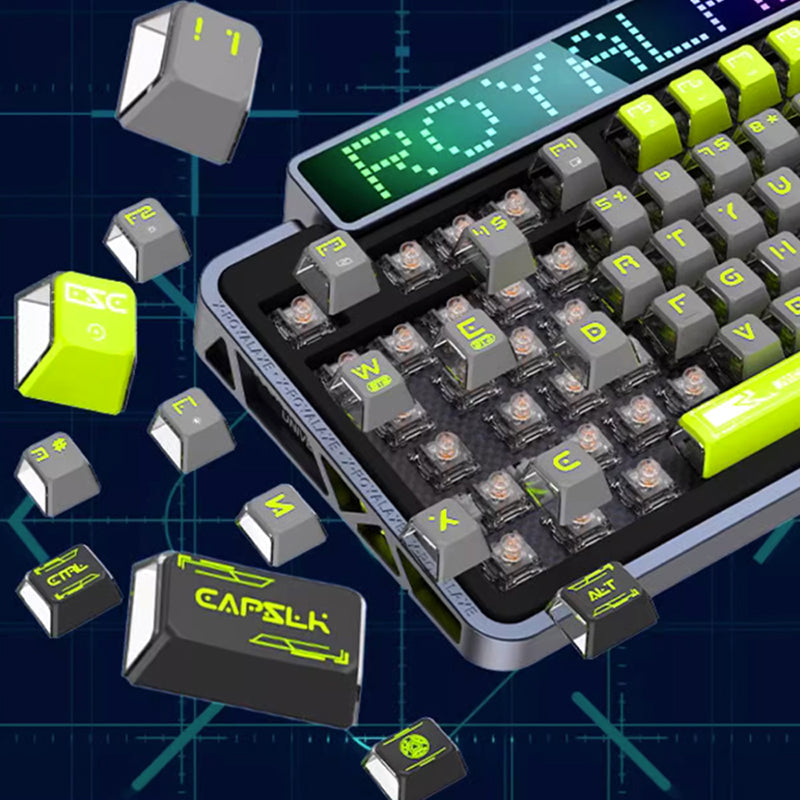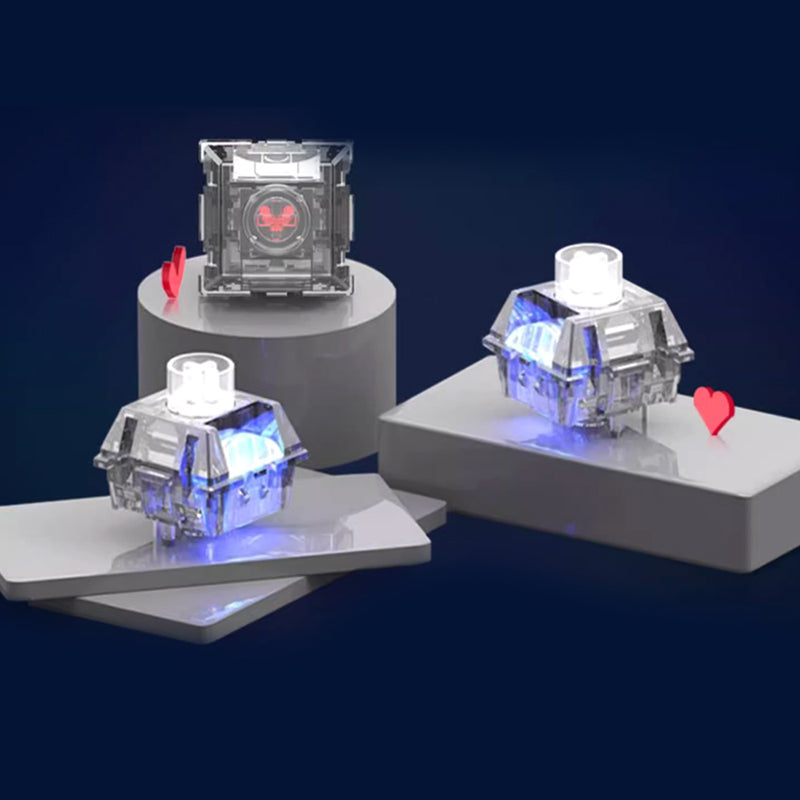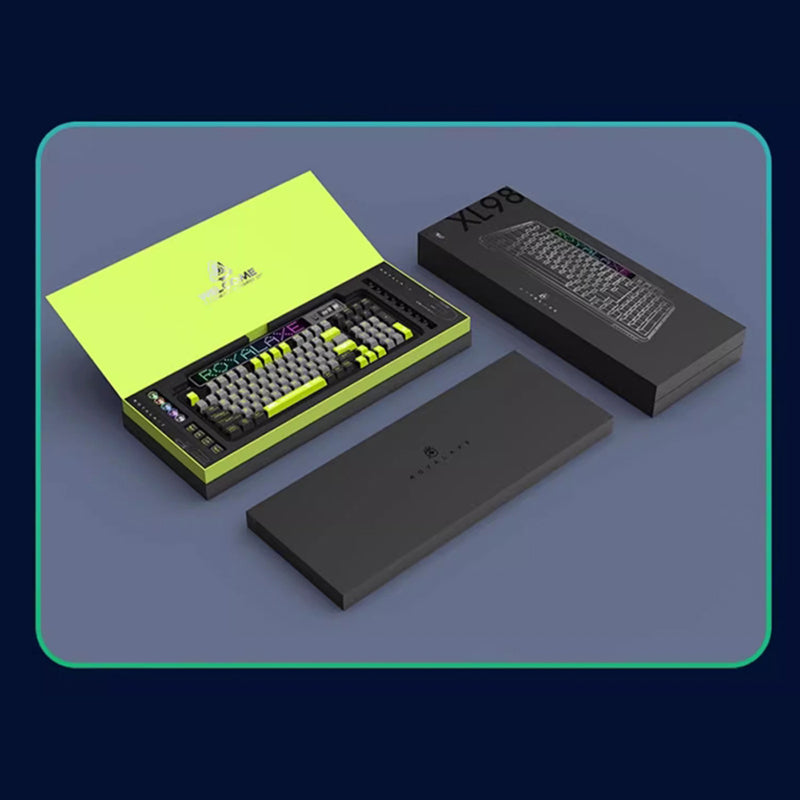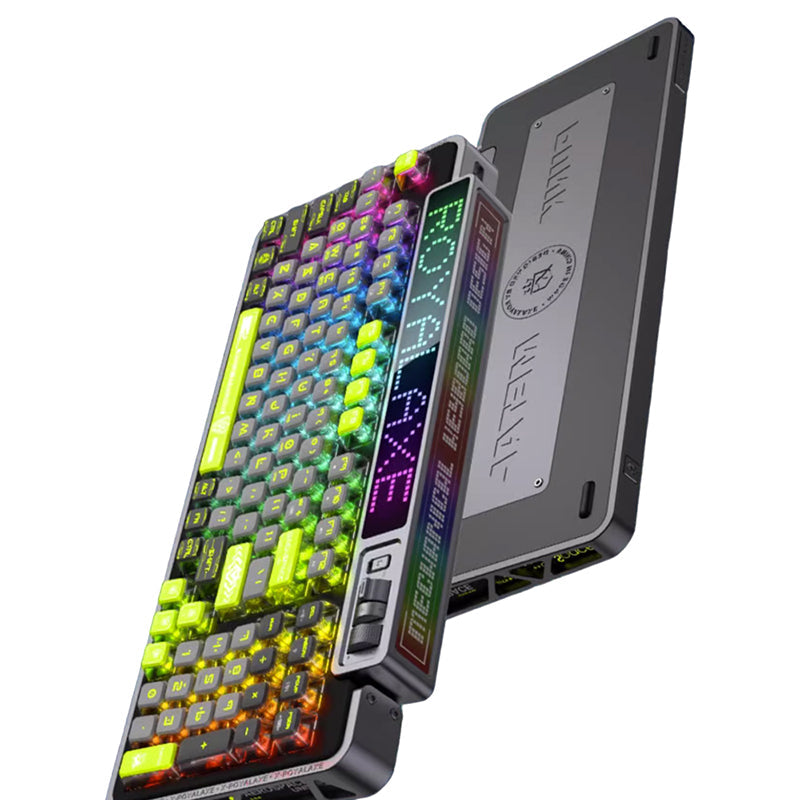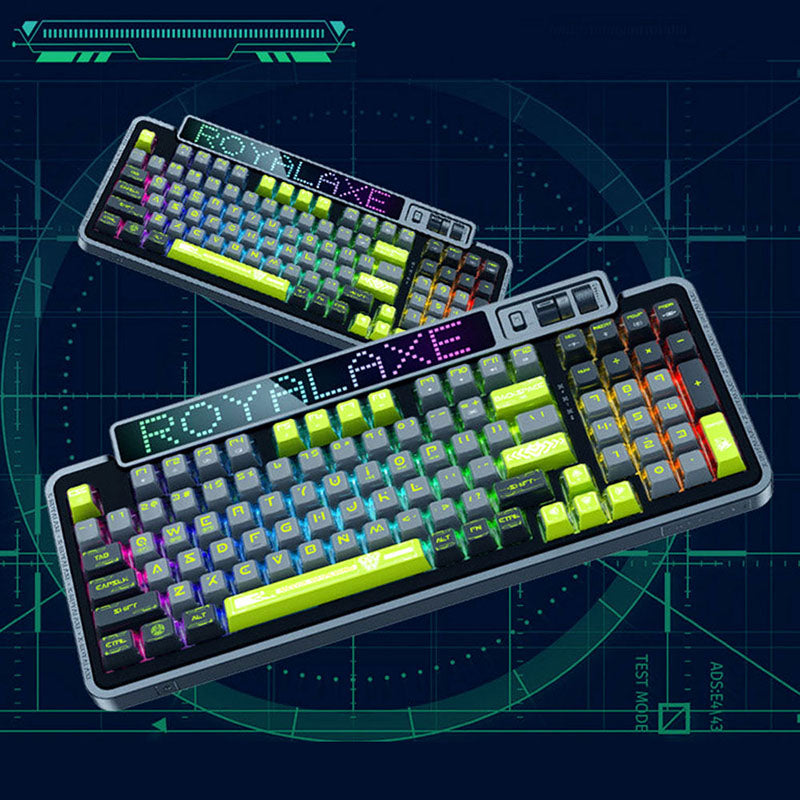 Royalaxe XL98 Mechanical Keyboard with LED Display
Switch Type:
TTC Titan Heart Linear
The RoyalAxe XL98 LED boasts TTC's latest Titan Heart RGB mechanical switches, a hot-swappable socket for ease of switch replacement, and a DIY RGB Dot-Matrix display screen for custom text and an engaging experience. PBT material keycaps with a three-sided transparent design ensure a full vivid RGB backlight experience with low glare. Offering a unique design and versatile functionality, the RoyalAxe XL98 LED keyboard makes every keystroke memorable.

DIY Colorful LED Dot-Matrix Display Screen
The XL98 LED mechanical keyboard features a vibrant, Dot-Matrix display screen at the top. This display can be personalized with different texts and patterns for an exciting experience. The bright and eye-catching display provides a trend-setting edge to the keyboard.

Exclusively Customized Keycaps With Three-Side Transparent Design
The RoyalAxe XL98 LED mechanical keyboard incorporates specially designed keycaps in an OEM height profile with a three-sided clear design. This structure allows the RGB backlighting to be experienced in a vivid way, while still offering full glare reduction for an uninterrupted gaming experience.

Comfortable Typing With Gasket Internal Structure
The RoyalAxe XL98 LED Keyboard is engineered for comfort and features an optimized soft-elastic gasket structure design. The suspended keyboard plate uses gasket mounts for firm, sound-absorbing support, granting smooth and pleasant tactile feedback with every keystroke.

Premium TTC Titan Heart RGB Switches
RoyalAxe XL98 LED mechanical keyboard comes with TTC's premium Titan Heart RGB mechanical switches. They offer a quick and light trigger force and at the same time supports the RGB effect of the keyboards. These have a silky smooth linear actuation type. With Hot-swappable sockets supporting both 3-pin and 5-pin switches, it is compatible with most switches in the market.

Ultra-Long Battery Life With High-Capacity Battery
The RoyalAxe XL98 LED mechanical keyboard has a large capacity of 8000mAH battery, allowing for a robust 200 hours of use off a single charge. Extended typing sessions are possible as the Dot-Matrix screen and RGB backlighting won't noticeably diminish battery life.

Convenient Connection Options
RoyalAxe XL98 LED mechanical keyboard supports versatile three-mode connectivity. It supports wireless Bluetooth, wireless 2.4GHz, and wired USB connection modes. The XL98 LED keyboard is fully compatible with both Mac and Windows driver setups.
General

Brand: Royalaxe
Type: Mechanical Keyboard
Model: XL98

Specification

Vivid & Colorful LED Dot-Matrix Display
Compact 96% Layout With 98-Keys Arrangement
DIY LED Dot-Matrix Display
Premium OEM Height PBT Keycaps with Three-Sided Transparent Structure
Soft-Elastic Gasket Mounted Structure Design
Full-Color RGB Backlight
Versatile Three-Mode Connectivity
TTC's New-Generation Titan Heart RGB Switches
Full-Key Hot-Swappable Design.
Royal Axe Driver Integration.
Premium Finish With Anodized Metallic Chassis
Extra-Long Battery Life With 8000mAh High-Capacity Battery
Battery Life: Up to 200 Hours

TTC Titan Heart Switches
Type: Linear
Operating Force: 42±5gf
Pre-Travel: 1.2±0.3mm
Total Travel: 3.6±0.3mm
Lifespan: 100million

Weight & Size

Product Weight: 1.8kg


Package Weight: 1.8kg


Product Size(L x W x H): 543x220x67mm

Package Contents

1 x XL98 Keyboard


1 x 2.4G Dongle


1 x Type-C Cable

1 x User Manual