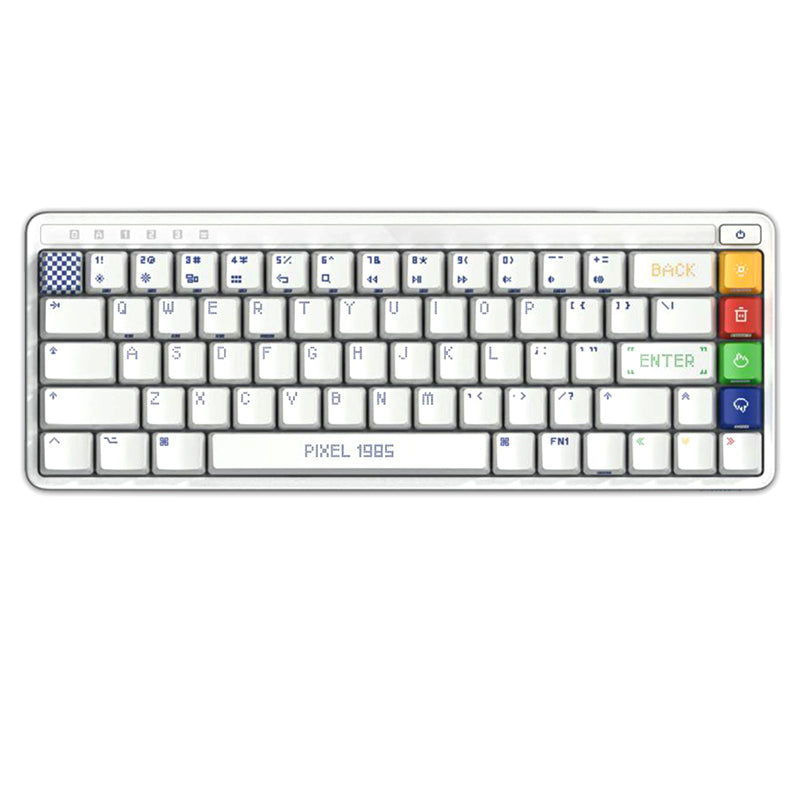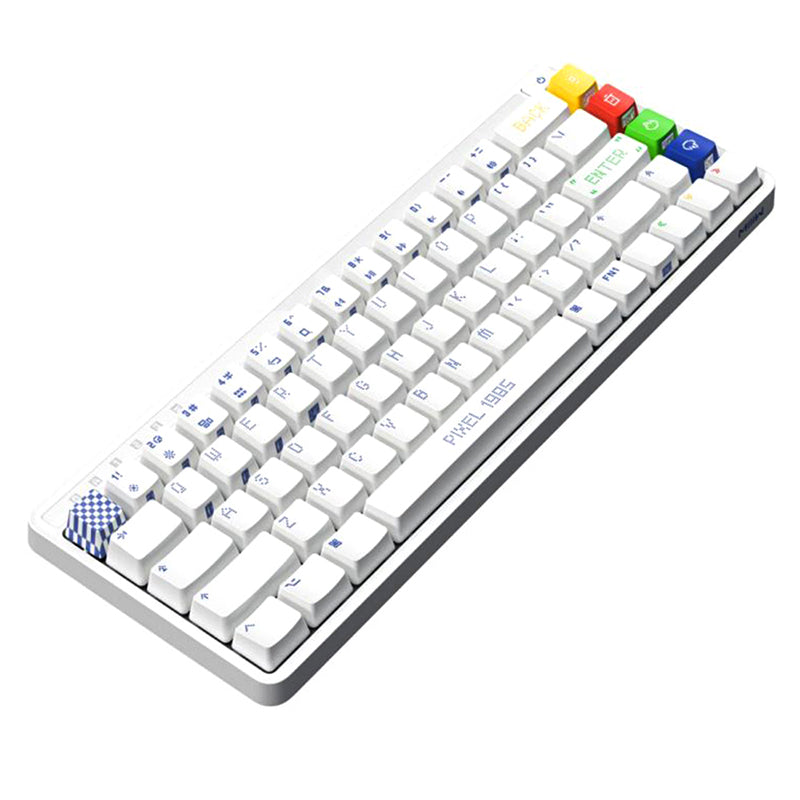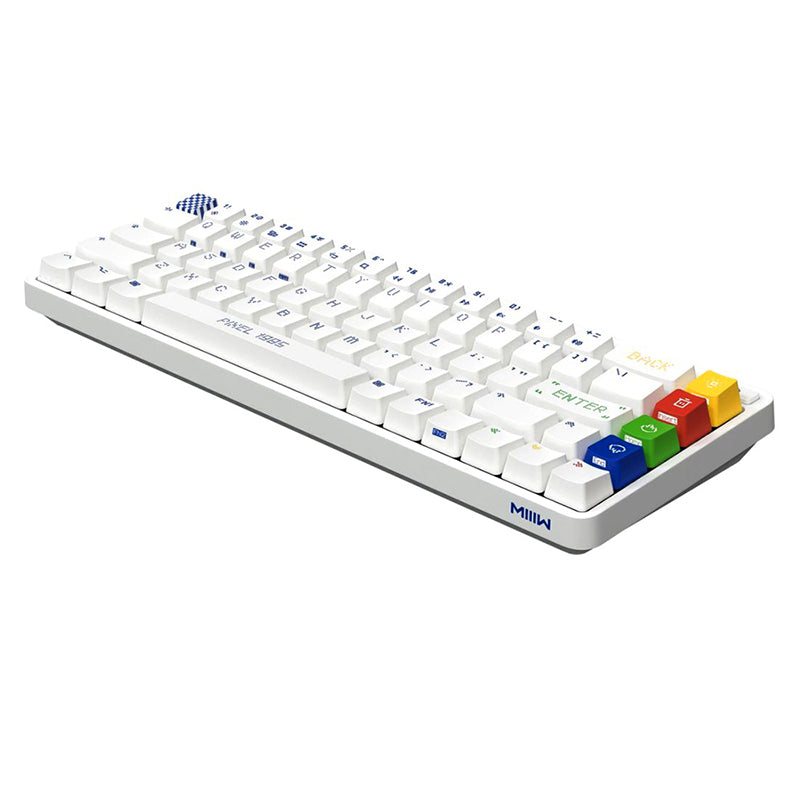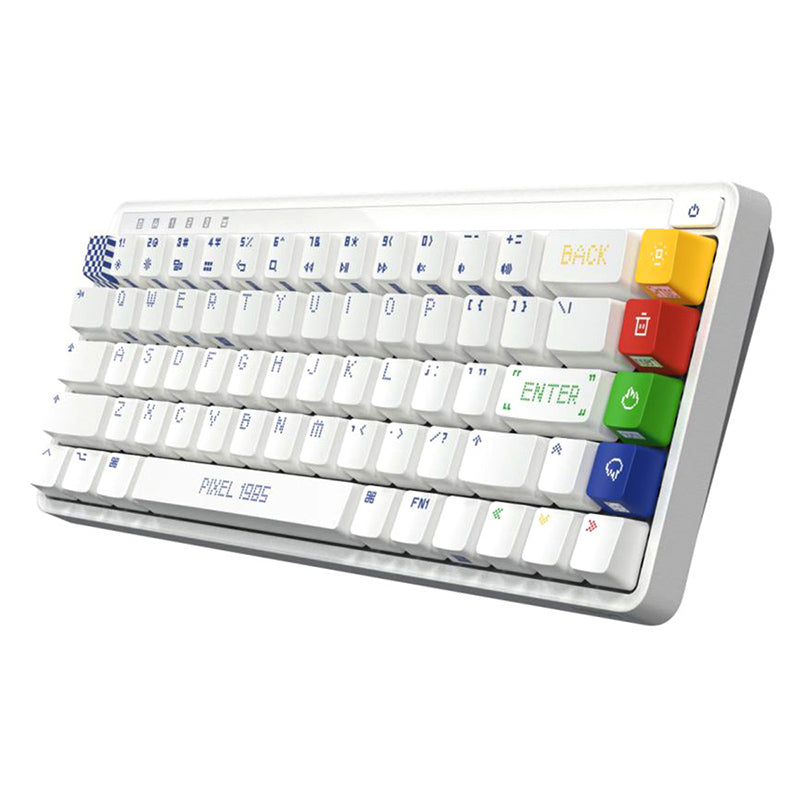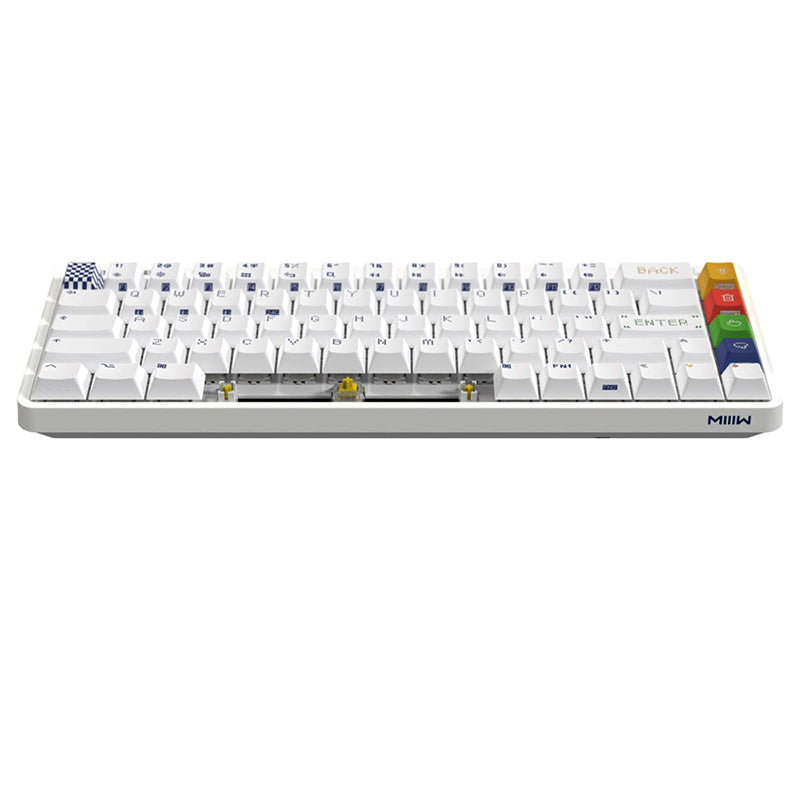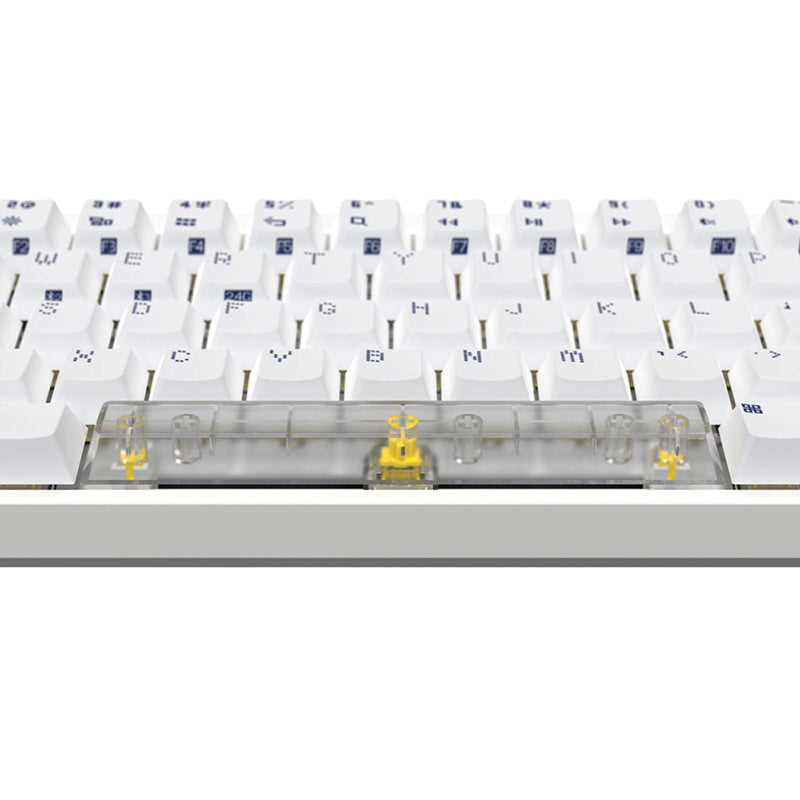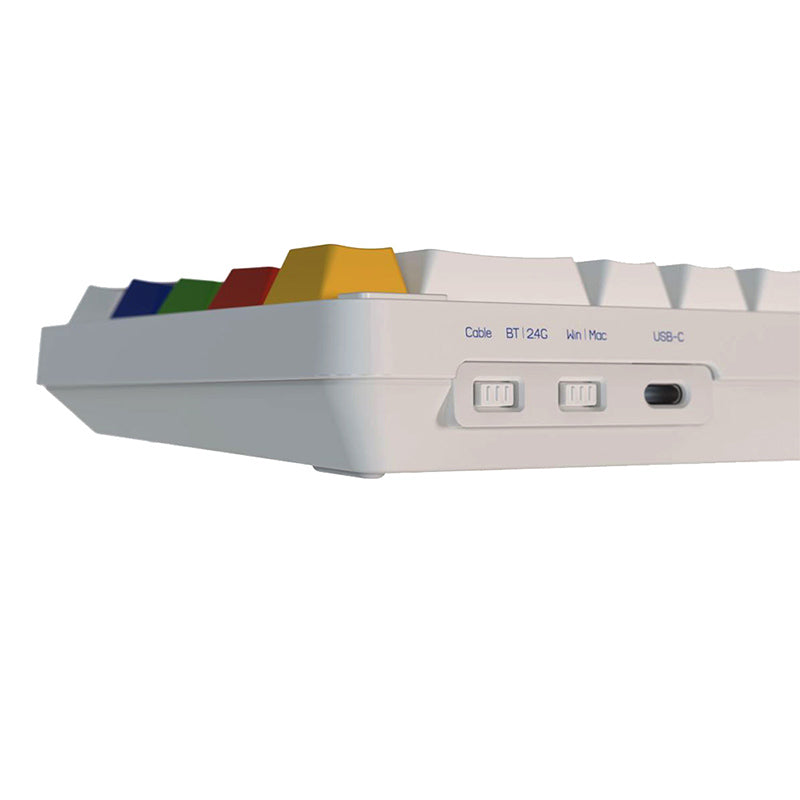 Xiaomi x MIIIW ART Series Z680 Wireless Mechanical Keyboard
Xiaomi MIIIW Art Z680 is a brand new ultra-compact 65% mechanical keyboard with a fun, colorful design theme. The theme of the Z680 Art keyboard is based on pixels, each legend is printed in a digitalized manner. MIIIW Art Z680 is a unique and designer keyboard that will give you a rich typing experience, a unique theme, and a compact layout all in a single package!

Feel The Fun With Unique Pixel Design
Xiaomi MIIIW Art Z680 mechanical keyboard brings you an all-new experience with your keyboard. The keyboard has stunning classic game elements incorporated in a design theme with pixelated legends. It has an elegant color theme with white keys and Red, Green, Yellow, and Blue complementing keys on the side!! Each keycap has got beautifully designed legend in a pixelated theme.

High-Performance Gateron G-Pro Mechanical Switches
Promising smooth, rich, and comfortable typing with the Z680 Art are high-performance Gateron G Pro Yellow mechanical switches on the keyboard. These are self-lubricating mechanical switches that offer smooth typing, quick rebound, and quick trigger response. With hot-swappable sockets, users can also replace the switches based on their preferences.

Smooth, Wobble-Free Typing With Finely-Tuned Stabilizers
In order to deliver smooth typing with no vibrations and wobbling issues, MIIIW has featured finely tuned stabilizers underneath large keys. This eliminates the wire sound and greatly enhances the typing experience for the users.

Multi-Device Connectivity With Three-Mode Connections
Z680 keyboard supports multi-device connectivity with a three-mode versatile connection feature on the keyboard. It supports high-speed wireless 2.4GHz, Wireless Bluetooth, and Wired USB Type-C connections. With Bluetooth connectivity, the keyboard supports connections with up to 5 devices simultaneously.

N-KEY Rollover
N-key rollover ensures that all keys pressed will be registered by the game, even if multiple keys are pressed at the same time.

Anti-Fingerprint, Highly-Durable PBT Keycaps
Z680 Art features highly durable Dye-Sublimed PBT material keycaps. The keycaps are oil, wear, and fingerprint resistant. You won't see the legends fading off anytime soon!

Ultra-Compact Form-Factor
MIIIW Art Z680 keyboard adopts an ultra-compact 65% layout with its 68-key arrangement. It saves you a lot of desk space and helps you create a neat and clean desktop for both office and gaming.

Dynamic RGB Backlight With 18 Built-in Lighting Effects
MIIIW Art Z680 mechanical keyboard creates a dynamic user experience with its multicolor RGB backlighting. The lighting has 18 pre-built lighting effects that allow you to customize your experience with the keyboard.

Long-Lasting 4000mAh Battery
MIIIW Art Z680 keyboard houses a large 4000mAh battery that provides extended battery life with the keyboard. Once fully charged, the keyboard can work flawlessly for over 200 days.

General

Brand: MIIIW


Type: Mechanical Keyboard


Model: Z980

Specification

Layout: 65% / 68-Key


Connection mode: Wired USB-C/Wireless 2.4G/Bluetooth

Wireless version: 2.4G, BT3.0+BLE5.0


Bluetooth name: MIIIWART-Z680

Operating system: Windows, Mac, iOS, Android


Case material: ABS


Keycap material: PBT

Wireless distance: 10 meters(in an unobstructed open environment)


Battery capacity: 4000mAh


Battery type: Li-ion polymer battery


Charging time: About 3 hours


Charging port: Type-C


Product Weight: 0.735kg


Package Weight: 1.19kg


Product Size(L x W x H): 316*118*38.7mm

Switch Type

Gateron G-Pro Yellow Switches
Type: Linear
Operating force: 50±15gf
Pre-Travel: 2.0±0.6mm
Travel distance: 4.0mm MAX

Package Contents

1 x Z680 Keyboard
1 x Type-C Cable
1 x 2.4G Receiver
1 x Keycap Puller
1 x Switch Puller
1 x Option Key
1 x Command Key(1.25U)
1 x Command Key(1U)
1 x Fn2 Key
1 x Quick Guide
1 x User Manual