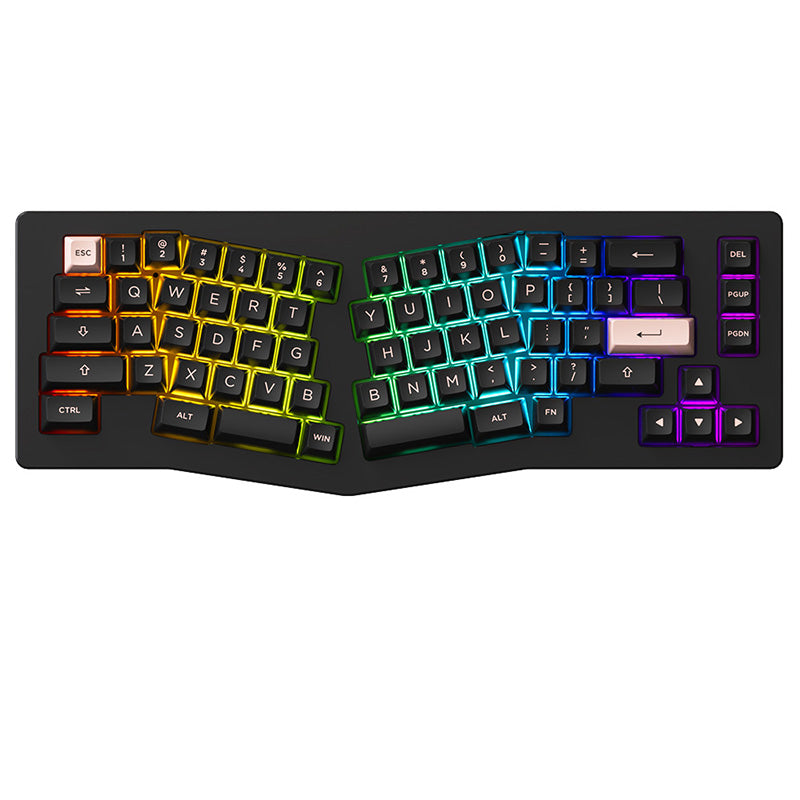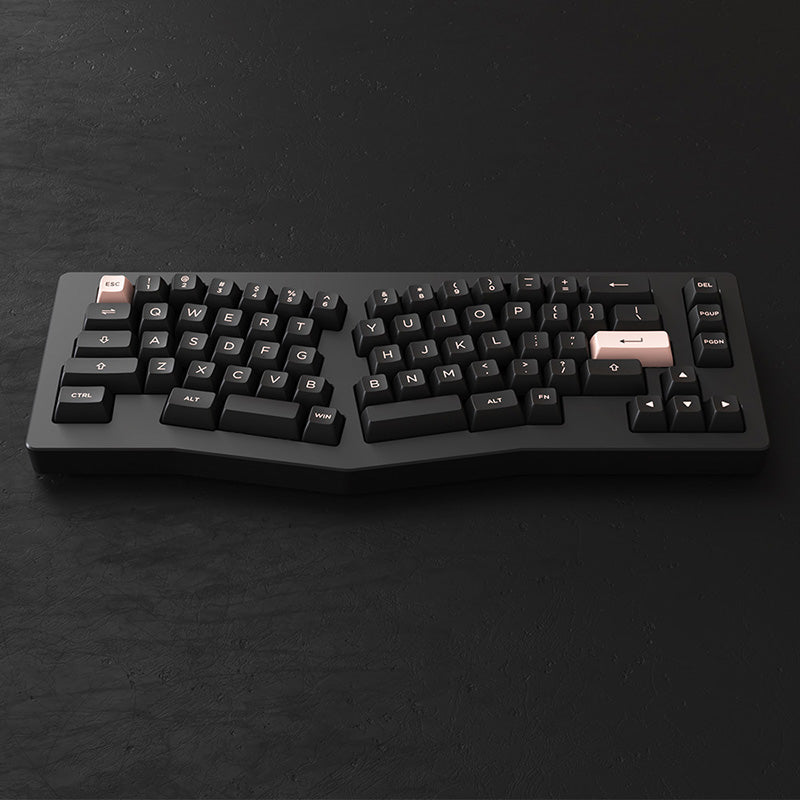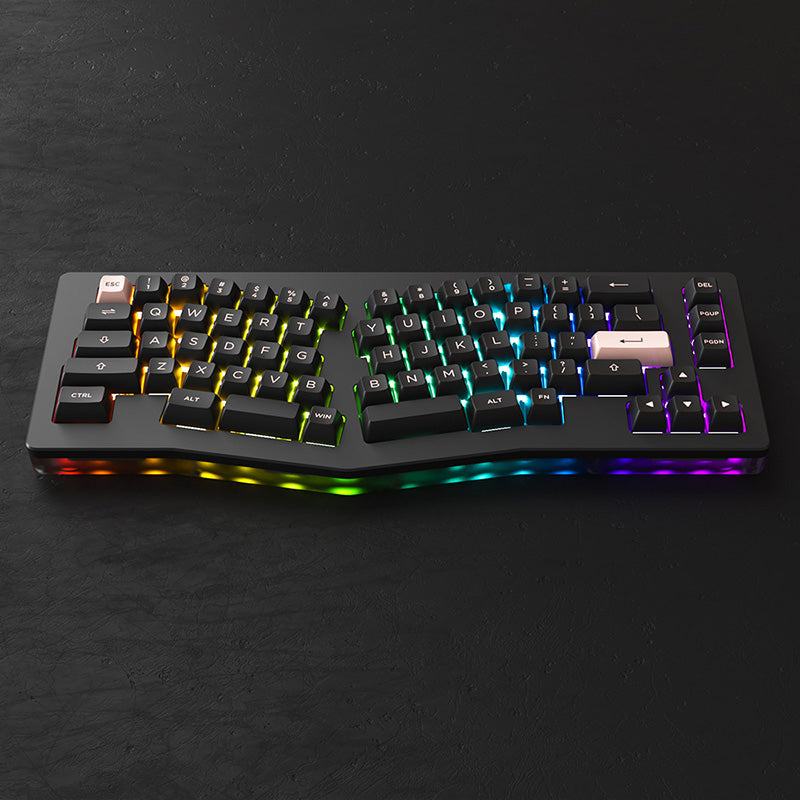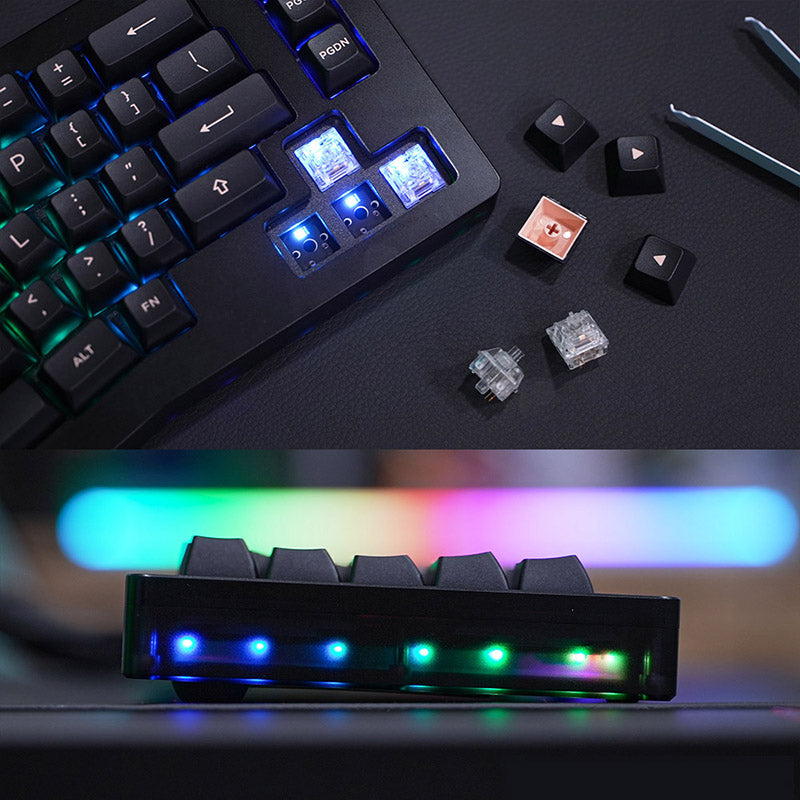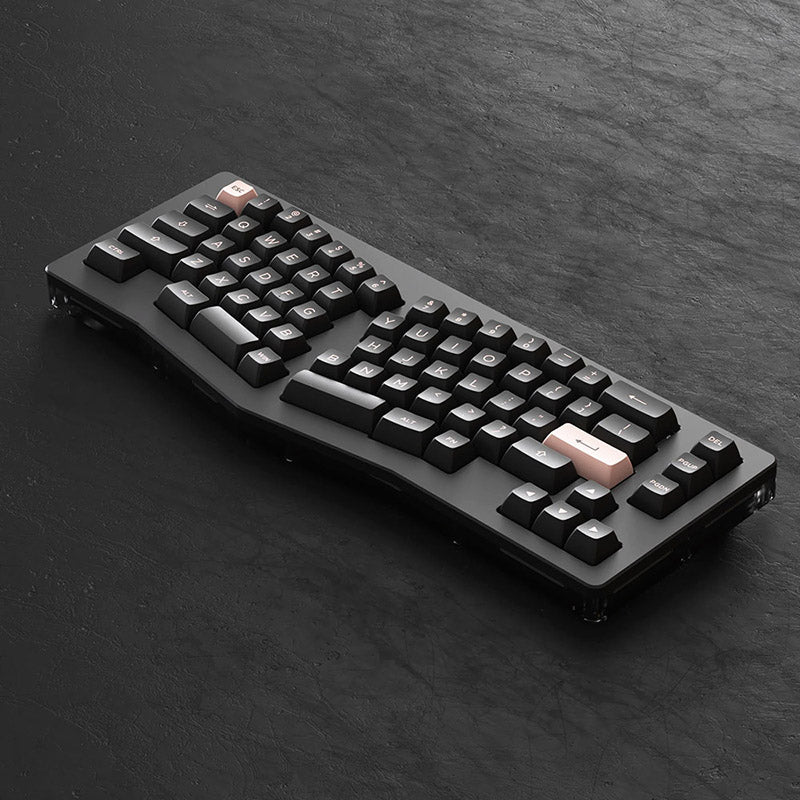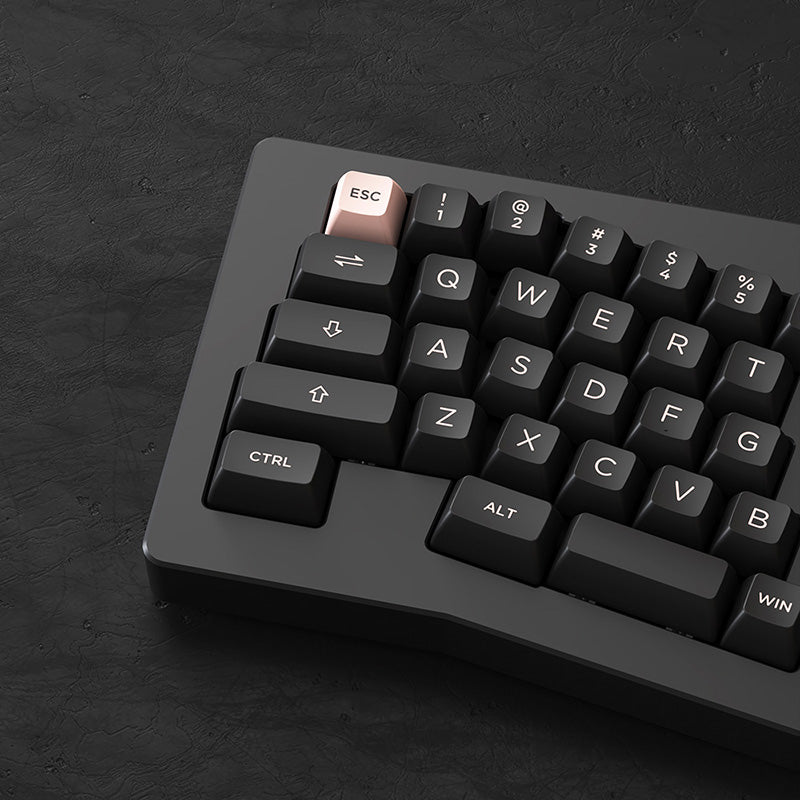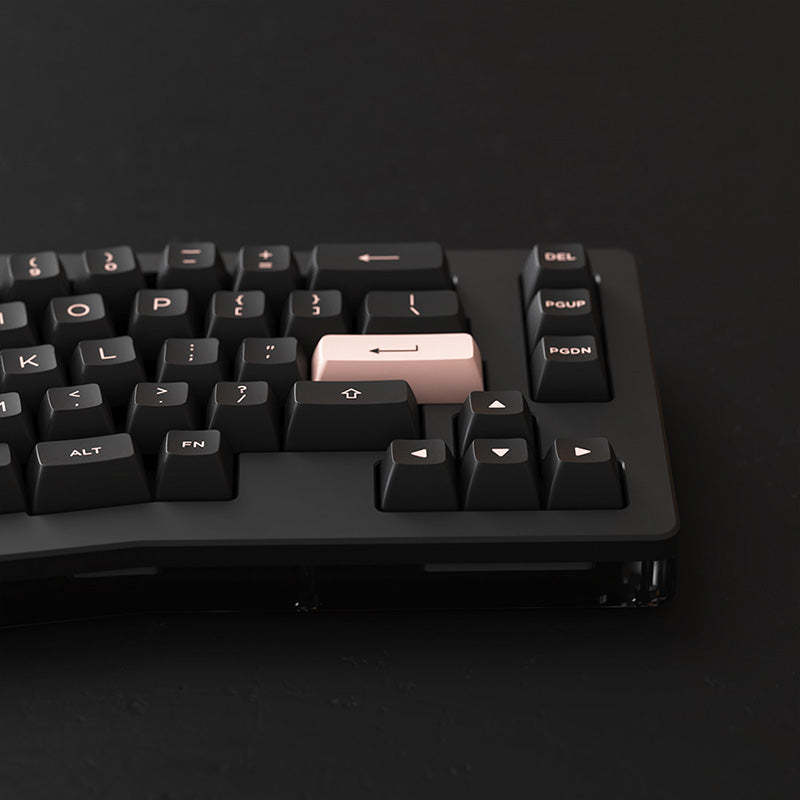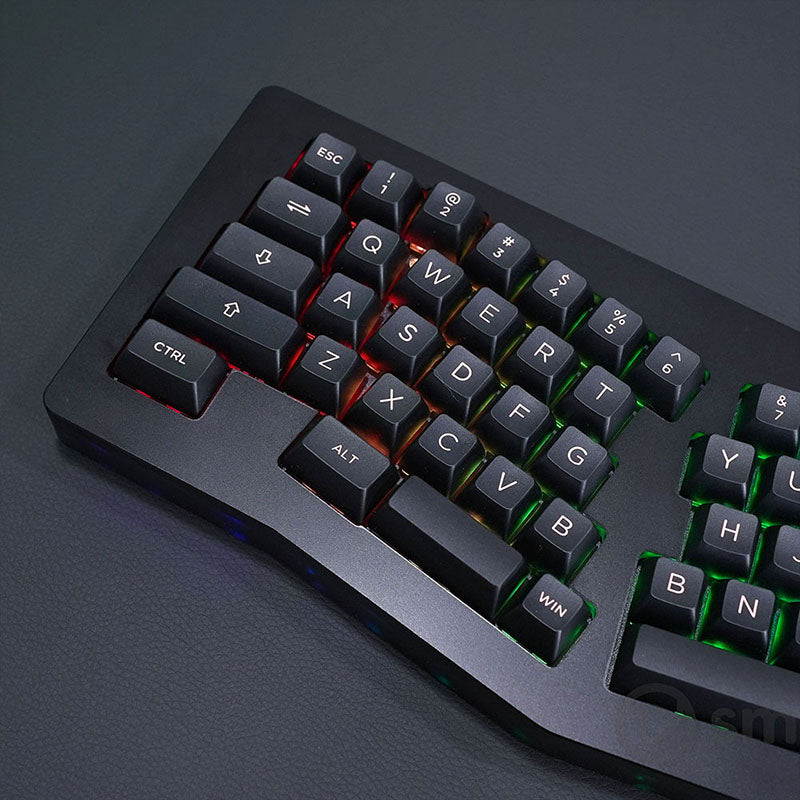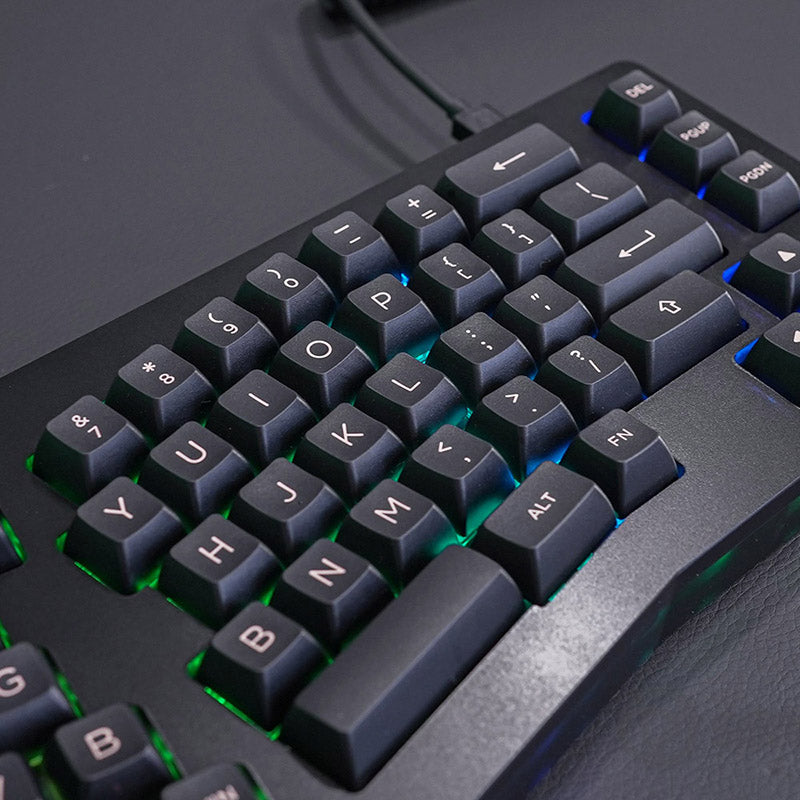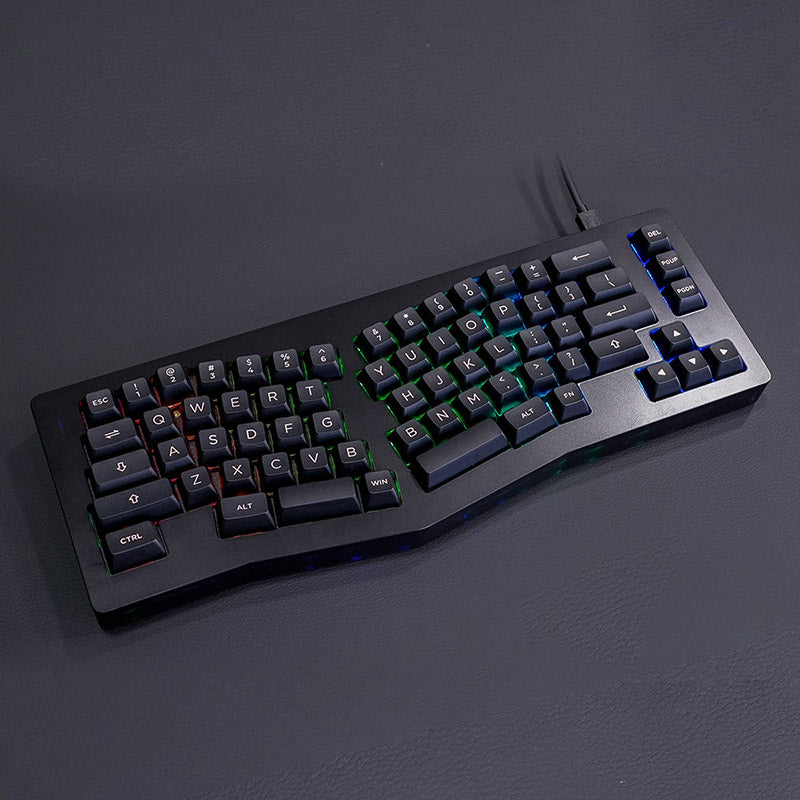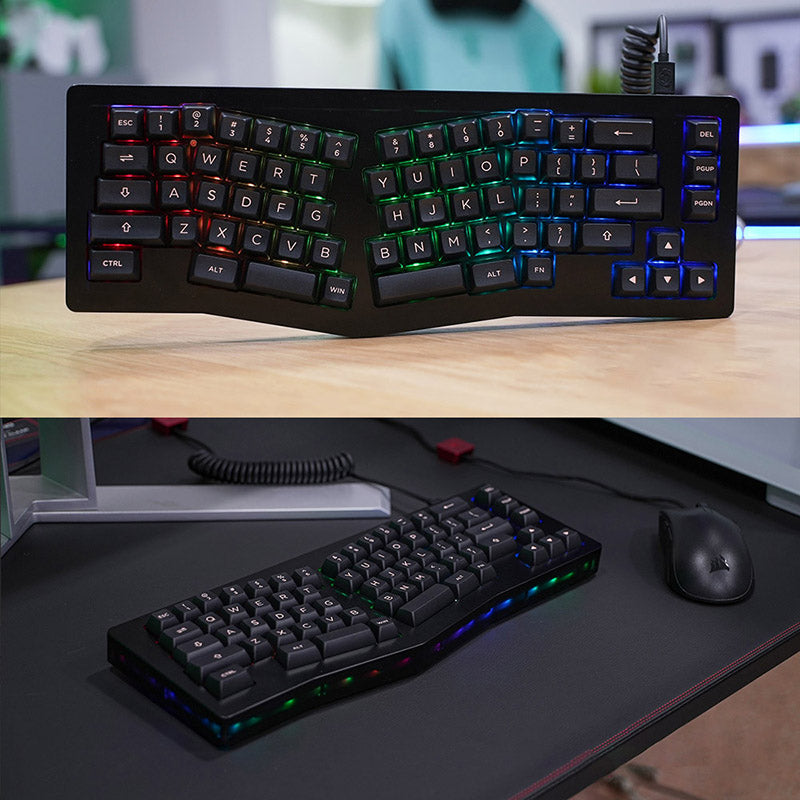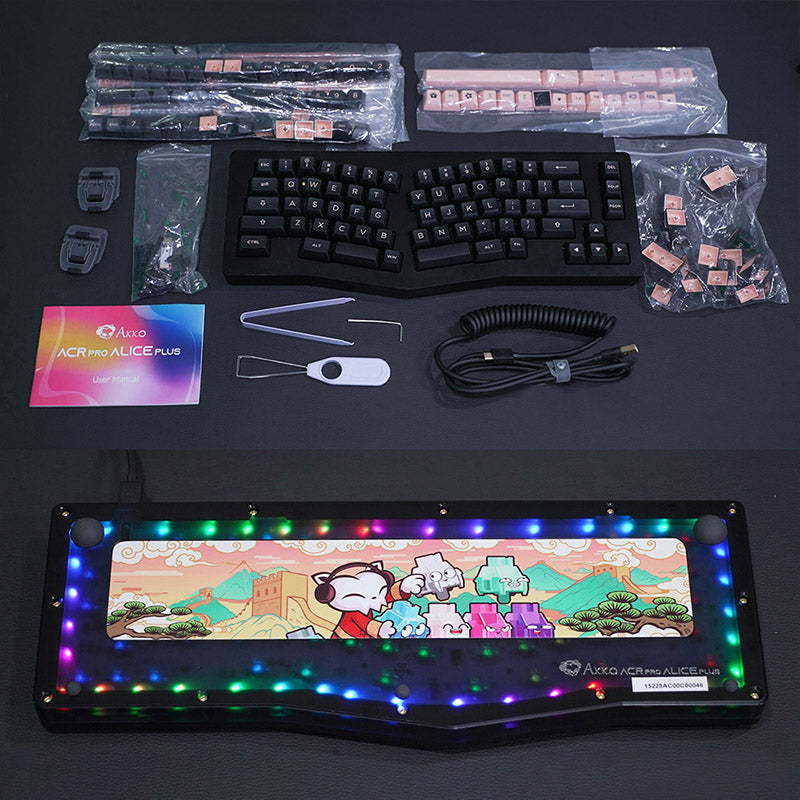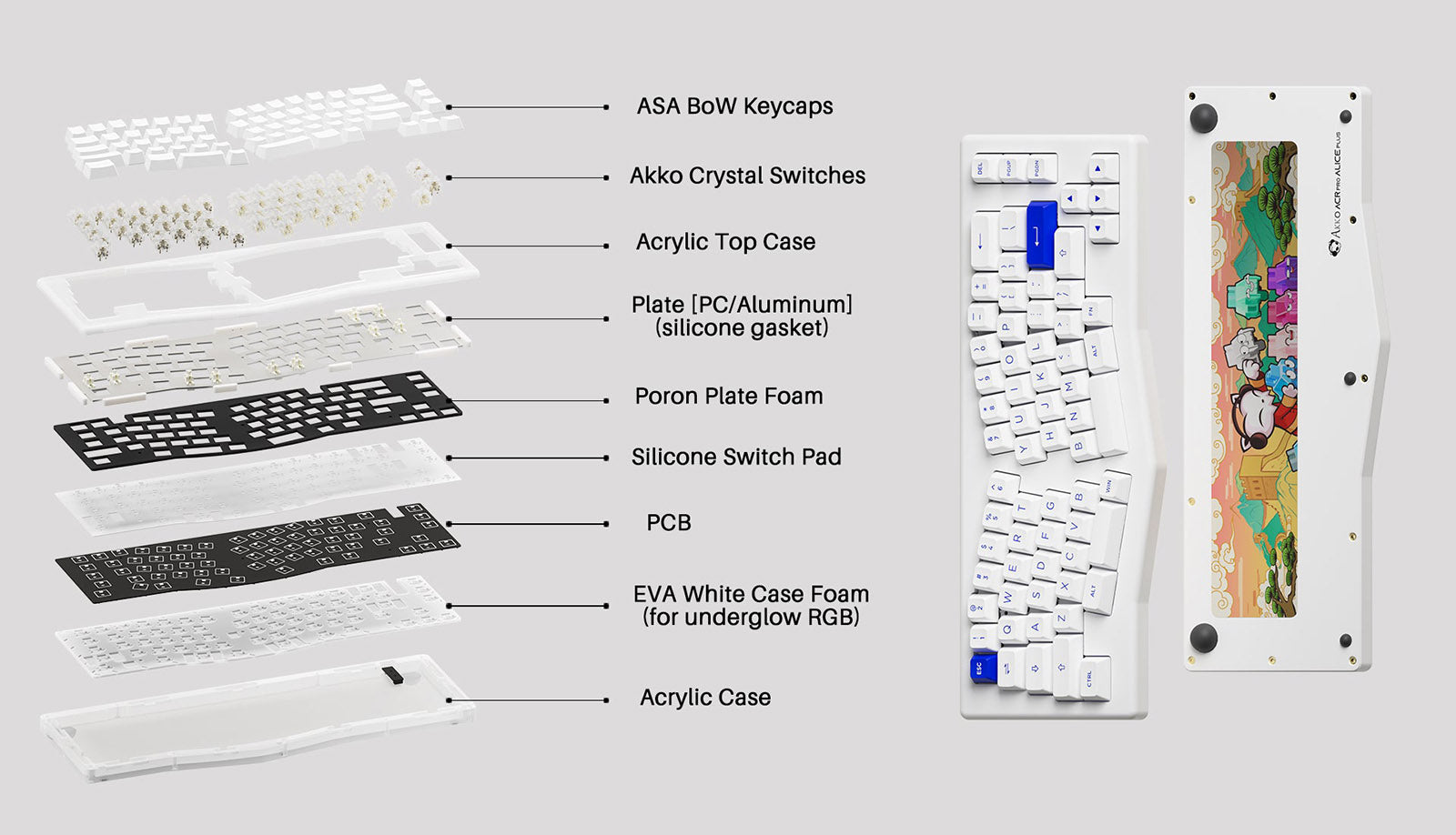 Akko ACR PRO Alice Plus Mechanical Keyboard
An Ergo & Split Alice layout
Akko ACR Pro series keeps improving the aesthetics of keyboards. With this Alice layout, Akko adopts 68 keys based on a 65% keyboard which is split into left and right halves, leaving a small gap in between. The letters and the bottom row are angled at a certain degree to fit the direction of your hands when staying on the desk naturally. The spacebar is split into two pieces to accommodate this design. It is considered to reach a balance in the aspect of ergonomics. With this keyboard, you can lay your hands on the keyboard freely and increase comfortable typing experiences simultaneously.

Continuity on Black&Pink Theme
Black & Pink continues! With this keycap set, we have interpreted our way of simplism while also having a twist to it. Designed in three simple colors, black, dark gray, and searing pink, the low-key keycaps is telling her story in an implicit way. Take a close look, the large pink character matches so well with the dark tone, just as sweetness meets darkness.

Gasket Mount & Sound Absorption Foams
To enhance the typing experience, Akko ACR Pro Alice Plus is designed with a gasket mount, which is constructed with the upper case on the top and the bottom case fitting perfectly without any screws in the middle, presenting a soft and even typing feeling at each corner of the keyboard. Akko has also made an effort to enhance the sound by placing a Poron foam and a silicone switch pad between the plate and the PCB. This layer can greatly buff keystrokes. The EVA bottom foam can absorb hollow noises as well as improve the underflow RGB. All is to provide a stunning typing sound and a premium sense.

SMD LED RGB Backlight & AKKO Switches
AKKO ACR Pro Alice Plus features SMD LED RGB backlight that is also customizable through the AKKO Cloud driver. New Selected durable AKKO Crystal switches come transparent and are factory lubed. With a weight of 43gf to be pressed, the linear Akko Crystal switches are perfect on the keyboard to be easily pressed and shine through.

Lubed Plate-Mounted Stabilizers & Screw-in Supportable
For this model, we go with lubed plate-mounted stabilizers. In the meantime, the keyboard also supports screw-in type, as screw-in stabilizers are often considered as an effective way to prevent rattling or vibrating of the plate in the keyboard. Now you can easily build up your own mechanical keyboard with this keyboard!
General

Brand: AKKO


Type: Mechanical Keyboard


Model: ACR Pro Alice Plus

Specification

Number of buttons: 65% / 68 Keys

Hot-swappable: Yes

Programmable with Akko Cloud Driver

Macro: Akko Macro V1.0

Construction: Gasket Mount

Case Material: CNC Acrylic

Plate: Polycarbonate Plate


Gasket: Silicone Sock, Silicone Gaskets


PCB Thickness: 1.2mm


Plate Foam: Poron


Switch-film: Silicone


Cabinet Foam: EVA


Keycaps: ASA PBT Keycaps Black Pink

Stabilizers: Akko Plate Mount Lubed Stabilizer (also supports screw-in stabilizers)

AKKO CS Crystal Switch
Type: Linear
Actuation Force: 43gf ± 5gf
Total Travel: 4.0 ± 0.5mm
Pre-Travel: 1.6 ± 0.3mm

Weight & Size

Product Weight: 1.8kg


Package Weight: 1.8kg


Product Size(L x W x H): 38*15*2.1cm


Package Contents

1 x ACR Pro Alice Plus Keyboard


1 x USB-C Cable


1 x User Manual